Ippodromo del Mediterraneo, Siracusa: galoppo sabato 8 maggio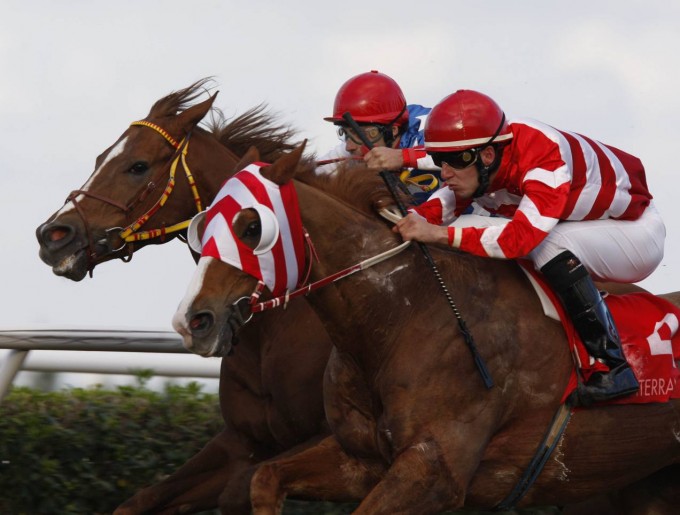 Si ritorna in pista tra Condizionata e Debuttanti
Una Condizionata e una Debuttanti aprono il programma di galoppo che ritorna in pista sabato 8 maggio all' Ippodromo del Mediterraneo di Siracusa. Sui 1200 metri di pista piccola del Premio Saffo, schierati 4 soggetti di 3 anni e oltre. Temutissimo Rock of Estonia che potrebbe esprimere la voglia di riscattare l'ultima opaca performance, ai danni dei positivi e regolari Dorkhel e Prestbury Park.
Incerta la Debuttanti, Premio Alceo, che porta in scena sei femmine di 2 anni sui 1200 metri di pista piccola, per la prima volta. Ci si affida ai lavori mattutini e alle buoni voci di scuderia che accompagnano sia all'allieva di Salvo Gianni, Orange Cake, sia la beniamina di Stefano Postiglione Amoazzurra, mentre il team di Mark Cuschieri si affida soprattutto a My Sweeie.
In chiusura un'interessante Handicap, Premio Simonte, impegna, sui 1800 metri di pista sabbia, 10 soggetti di 3 anni e oltre. Reduce da successi e buona forma sono sia Spiritara che Sopran Furia, quest'ultima potrebbe approfittare del pesino assegnato in perizia. Tante le possibili alternative in pista…
programma-corse-sabato-8-maggio-2021-galoppo
fonte : Ippomed
New post on 

Horse Racing in Korea
Sunday sees behind closed doors action at Seoul (10 races from 10:45 to 18:00) and at Busan (6 races from 12:10 to 17:00). The only betting outlets open in Korea are at Jeju, Daegu, Gwangju, Changwon and Cheonan (advance reservation through the MyCard app required). Here are the previews:
Seoul Race 1: Class 6 (1200M) Allowance / KRW 22 Million
(1) GO GO STAR picks himself here with back-to-back 3rd place finishes over this distance. She led all the way to the 100M last time out and from the inside gate we can expect a bold showing again. (2) WARRIOR THUNDER is worth some thought based on his last start where he showed improvement over 1300M. He was bumped early then worked forward to get to the inside and the lead from a wide draw. The effort – and a few rivals – caught up with him close to the line but back to 1200M and with a better gate today and he is right in this. (5) DESK TAP was a fair 4th on his first start before going wide in the wet on his second appearance at the end of March. He battled on well and could be a place line here. (6) SAENAE CHOICE and (8) RUN RUN RUN are others who can feature in the finish.
| | |
| --- | --- |
| Selections | (1) Go Go Star (2) Warrior Thunder (5) Desk Tap (6) Saenae Choice |
| Next Best | 8, 9 |
| Fast Start | 1, 5, 6, 7 |
Seoul Race 2: Class 6 (1200M) Allowance / KRW 22 Million
(1) DAEJIUI YEOGEOL was 2nd at this class and distance back in February coming from well back and finishing strong. That came before a slightly disappointing reappearance at the end of March. We'll give her a pass on that though as the track was wet and slippery and she was midfield before fading late. She is back in trip today and is capable of much better. The main danger and possible favourite is a debut-maker. (5) WONDERFUL TYCOON trialed very nicely in a heat where he was bumped early but ran home well for 3rd place in a fast time. If he brings that form to the races, then he will be a real factor. (7) POLKA has shown some ability and she will only need to repeat her last start performance to be in the finish when, after meeting trouble in the run, she ended up 4th. On the face of it, there's not much to recommend about (3) GWACHEON SINSEGYE, but she did produce a good run three starts back. With likely a drier track as well as a good barrier, she can sneak some money.
| | |
| --- | --- |
| Selections | (1) Daejiui Yeogeol (5) Wonderful Tycoon (7) Polka (3) Gwacheon Sinsegye |
| Next Best | 9, 10 |
| Fast Start | 1, 2, 7, 9 |
Seoul Race 3: Class 6 (1300M) Allowance / KRW 22 Million
(1) ETERNAL MEMORY ran a terrific race last start albeit on a very wet track. He had the same gate as today and settled midfield before running wide on the corner and then ran on strongly going down by a nostril. A repeat of that run puts him in the finish again. (8) ONLY WINNER can have a line drawn through her last start when she was on a fast and furious pace and got buffeted about. The start before, she settled handy and ran on strong for 2nd at 1400M and with a similar run she can go close here. (10) CURRERECUS didn't run badly last time when 6th over 1400M. That came on top of a good 2nd the start before at the same trip and he looks a place line today. (2) MASTER SUNSHINE has been unpredictable in three starts so far but comes in off a good trial and could be the wildcard. (5) HAWKUI YEONGGWANG has the fastest time of any over the distance and can aim to match the 3rd place he has recorded in each of his latest two.
| | |
| --- | --- |
| Selections | (1) Eternal Memory (8) Only Winner (5) Hawkui Yeonggwang (10) Currerecus |
| Next Best | 2, 11 |
| Fast Start | 1, 8, 6, 3 |
Busan Race 1: Class 6 (1200M) Allowance / KRW 22 Million
More than a year after his debut, (8) WONDER BLADE returned to break through in emphatic fashion over this distance on April 3rd, taking command turning into the home straight and then running on way too strong for a field that was overall probably better than this. He will be a deserved hot favourite. Indeed, the horse that ran 2nd to him that day, (11) AMAZING FOOT, looks next best again. The Hansen colt contested the lead for the opening half of the race before Wonder Blade pulled away and at level weights again, a reversal seems unlikely. (7) ENOUGH has hinted at ability across three starts so far and can aim for a place here while (3) HONEY TIGER did absolutely in his two prior outings but came back to trial in April after four months off and looked much more assured. (4) HAVE A GOOD TIME perhaps the best of a limited looking rest.
| | |
| --- | --- |
| Selections | (8) Wonder Blade (11) Amazing Foot (3) Honey Tiger (7) Enough |
| Next Best | 4, 9 |
| Fast Start | 3, 8, 11, 12 |
Seoul Race 4: Class 6 (1300M) Allowance / KRW 22 Million
(10) ROCK FIGHTER was a slightly surprising winner last start on a wet track but the manner of it certainly commands respect. He raced up on the pace that day and worked home strongly and has solid claims for a repeat today. (7) CINDERELLA just needs to get her magic slippers on, and she will be winning soon. She came close last start racing in a handy spot and working home well for 2nd and is set to be in the finish again. (9) SPEED FLYING was poorly away and then too keen last time around so we will disregard that and instead look to her previous couple of starts which were nice and encouraging. She runs on well and with better luck can go close. (6) WONDERFUL CAT is the value play here. In both his latest two, he has made good ground from wide draws and finished off well. He gets a closer barrier today and can sit just behind the leaders. (1) YES I CAN has just the one start to his name and after being slowly away he finished well for a promising 5th which he can build on here.
| | |
| --- | --- |
| Selections | (10) Rock Fighter (7) Cinderella (9) Speed Flying (6) Wonderful Cat |
| Next Best | 1, 12 |
| Fast Start | 7, 9, 10, 12 |
Busan Race 2: Class 6 (1400M) Allowance / KRW 22 Million
Maiden fillies only here. (9) FLAT BABE has run 2nd on both starts to date, both times beaten by good winners. On debut she led over this distance before being overtaken a furlong from home whereas last time at 1200M, she came from off the pace. Expect You Hyun-myung to keep her handy here and she's very much the one to beat. (3) BURNING PARTY has been making progress in her latest two and was a good 2nd last start over today's distance having led for much of the race. She draws well today and should go close. (10) HORAENGI is figuring things out as well and while she was well beaten by a good winner last start, she recorded a fast time when 2nd at this distance. (12) SECOND WIND and (13) BLUE OAK have both mixed their form so far but both have hinted at ability and with top jockeys on, this could be the day for at least one of them to put in a big run.
| | |
| --- | --- |
| Selections | (9) Flat Babe (10) Horaengi (3) Burning Party (13) Blue Oak |
| Next Best | 12, 2 |
| Fast Start | 3, 6, 7, 12 |
Seoul Race 5: Class 4 (1400M) Handicap / KRW 35 Million
Doping Trial Likely to Get Pushed into 2022
Jason Servis | JC of Saudi Arabia
By T. D. Thornton
Prosecutors in the federal case against alleged dopers Jorge Navarro, Jason Servis and 12 other defendants told the judge Friday they had no objection to the granting of yet another extension so defense attorneys can sift through the voluminous amount of evidence against their clients, a move that will likely push back the start of the long-awaited trial until 2022 at the earliest.
The May 7 letter from acting United States Attorney Audrey Strauss to U.S. District Judge Mary Kay Vyskocil was filed fewer than 24 hours after defense attorneys filed their own, separate letter with the court signaling an intent to ask the judge to recuse herself from the case over alleged prejudices.
At deadline for this story, that official "Motion to Recuse" had not yet been filed, nor had the judge's purported conflicts been disclosed. But those separate letters from the defense and the prosecutors stem from discussions the parties had during a May 6 conference call, and all signs now point to the trial not starting until the two-year anniversary of the Mar. 9, 2020, arrests looms within sight.
Defense attorneys were already granted one extension two months ago to file motions to suppress evidence, which involves a massive batch of discovery documentation including transcripts of potentially incriminating phone recordings, emails and text messages.
The 14 defendants have all been implicated to various degrees in the alleged conspiracy to manufacture, mislabel, distribute and administer performance-enhancing drugs (PEDs) to Thoroughbreds and Standardbreds across America and in international races.
Strauss's letter outlined a proposed timetable that would give the defense one additional month, until Aug. 27, to review and/or object to the evidence, with 90 days tacked on beyond that date to accommodate time for the prosecution to respond and for the defense to offer a standard final reply.
"The parties further conferred on the matter of expert disclosures and timing for any motions relating to the preclusion of proposed experts," Strauss wrote. "The Government has to date identified two experts and provided summary reports relating to their anticipated testimony. No defense experts have yet been identified…Representatives of the defense have asked that deadlines for expert disclosures [be] set at the subsequent conference to be held in the Fall of 2021."
The last status conference in the case was held in November; the next one is coming up May 14.
Servis (who transformed Maximum Security from a $16,000 maiden-claimer into a MGISW star during the time the feds collected evidence on his alleged stable-wide doping practices) and Navarro (whom the government allegedly has on tape boasting about dosing elite-level sprinter X Y Jet "with 50 injections" of PEDs prior to a win in the 2019 G1 Golden Shaheen in Dubai) are the two now-barred trainers headlining the case.
The 12 other defendants are drug manufacturers, distributors, stable employees, and veterinarians allegedly involved to various degrees in the five counts listed in the indictment. They are: Erica Garcia, Christopher Oakes, Michael Tannuzzo, Marcos Zulueta, Rebecca Linke, Kristian Rhein, Michael Kegley, Jr., Alexander Chan, Seth Fishman, Jordan Fishman, Lisa Giannelli, and Rick Dane, Jr. (by TDN)