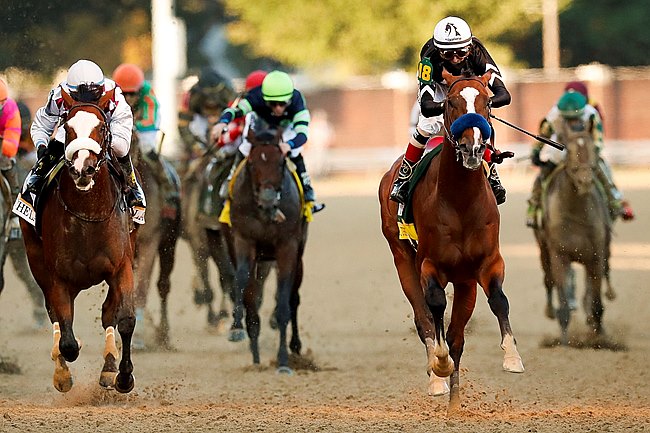 For 68 years, the legendary Ben Jones has been alone in the Kentucky Derby history books, having captured the American classic six times from 1938-52. Now, he has some company from fellow Hall of Famer Bob Baffert.
Baffert captured a record-tying sixth victory in the 146th running of the $3 million Kentucky Derby Presented by Woodford Reserve (G1) Sept. 5 at Churchill Downs when his athletic 3-year-old Authentic outlasted favored Tiz the Law in the 1 1/4-mile classic.
Relative to his other Derby winners this decade—American Pharoah  (2015) and Justify  (2018), both eventual Triple Crown winners who were expected to win the Derby—Authentic's victory was more of a surprise. Though the colt brought a 4-for-5 record into the race, some questioned whether he could handle the Derby distance. He barely managed to win the July 18 TVG.com Haskell Stakes (G1) at Monmouth Park a start earlier, lasting by a desperate nose over 1 1/8 miles.
But the narrow win could have been a blessing in disguise. It not only caused some pundits to question his staying power, it may have influenced rival jockeys, too. No one was in a hurry to engage Authentic early in the Derby, likely believing he would fade.
Though Authentic broke slowly, he was able to easily cruise to the front without urging from Hall of Fame jockey John Velazquez. He went to the lead under token pressure from Ny Traffic, who battled him closely in the Haskell, and after splits of :22.92, :46.41, and 1:10.23, Authentic had enough left to fend off his 14 rivals, though only one got close to him: Tiz the Law.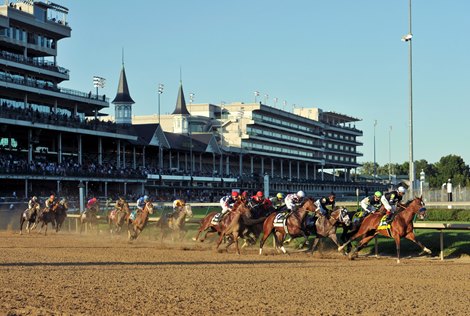 The final margin was not all that close. Authentic won by 1 1/4 lengths, a clear margin he maintained for much of the stretch run. This was in contrast to the mile stage in the race when Authentic led Tiz the Law by just a head in 1:35.02. 
Authentic ($18.80) completed the distance in 2:00.61, a little more than a second off Secretariat's track record of 1:59 2/5 in 1973. His time was the seventh-fastest of all time and the quickest since Monarchos went 1:59.97 in 2001.
Baffert was emotional after the race, though not solely because he tied the record for Derby wins. He was concerned about his longtime assistant, Jimmy Barnes, whom the trainer said broke his arm when he tried to control Baffert's other entrant, Thousand Words, in the paddock before the race. 
Barnes was assisting with the saddling of Thousand Words when the colt reared and lost his balance, falling on his side. Thousand Words was scratched as a standard precaution, though Baffert said after the Derby that the colt seemed uninjured.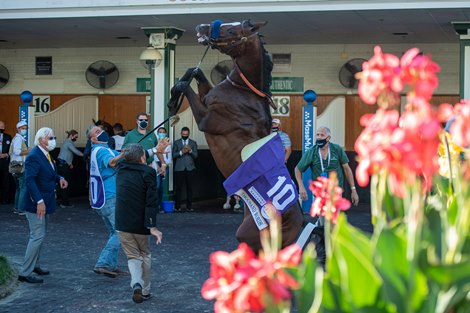 Barnes was not so lucky. 
"Jimmy, poor guy, is in an ambulance right now. Can't enjoy it," Baffert said, his voice cracking. "This is so emotional, the ups and downs in this game. Unbelievable."
Authentic also gave Baffert a scare in the winner's circle, where he wheeled and caused the trainer to fall as he sought to get out of the colt's way. Baffert was uninjured.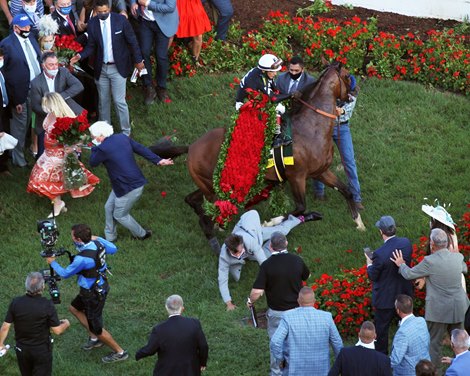 He wasn't the only one to experience such extreme highs and lows. So, too, did some of his owners. Spendthrift Farm and Albaugh Family Stables lost their Derby chance with Thousand Words, though Spendthrift representatives still made the wondrous trek to the Kentucky Derby winner's circle in the infield when Authentic triumphed.
Spendthrift Farm, MyRaceHorse Stable, Sol Kumin's Madaket Stables, and Starlight Racing own and race Authentic. Spendthrift and MyRaceHorse Stable joined the partnership this spring. The colt previously raced for SF Racing, Starlight Racing, Madaket Stables, Frederick Hertrich III, John Fielding, and Golconda Stables.
Spendthrift Farm stands Into Mischief , Authentic's sire.
SF Racing and Starlight West bought the colt at the 2018 Keeneland September Yearling Sale for $350,000 from the Bridie Harrison consignment. Bloodstock agent Donato Lanni signed the ticket for his purchase.
Now an earner of more than $2.8 million, Authentic is out of the Mr. Greeley mare Flawless. He was bred in Kentucky by Peter Blum Thoroughbreds and is related to two other minor winners. The mare has a 2-year-old colt by Bodemeister named Mint and a Bodemeister yearling named Push Button. With no reported foal for 2020, she was bred back to Into Mischief for 2021. 
Authentic became the first wire-to-wire winner of the Kentucky Derby since 2002, when another Baffert trainee, War Emblem, led throughout.
War Emblem was the trainer's third winner, following Silver Charm (1997) and Real Quiet (1998).
Baffert wasn't the only multiple Derby winner celebrating after the race. Velazquez notched his third Derby win following scores aboard Animal Kingdom (2011) and Always Dreaming  (2017). Kumin and Starlight were part owners in Triple Crown winner Justify. (Another Kumin partnership, Head of Plains Partners, was an owner in Justify.)
Velazquez praised Baffert in a post-race news conference, recognizing his suggestion to urge the colt with left-handed strikes from the riding crop. He said he put aside the pre-race chatter that Authentic couldn't stay the trip.
"And he responded. That's it," the rider said. "That's all you ask for a horse, that when you get after him and they give you everything they can, and he did. I mean, he responded. Every time I asked him for more, he gave more.
"And what a feeling—what a feeling I had."
Not everyone was enjoying the same euphoria. Barclay Tagg, the trainer of Tiz the Law, appeared disappointed, though his colt ran well under regular rider Manny Franco. Tiz the Law finished two lengths ahead of longshot Mr. Big News, who rallied for third at odds of 46-1.
Asked for his reaction, Tagg responded matter-of-factly, "He didn't win it. Baffert's hard to beat."
Off at odds of 7-10, Tiz the Law was the shortest-priced favorite since Spectacular Bid won the Derby at 3-5 odds in 1979. Arazi had been the last horse to start odds-on, finishing eighth in 1992. 
Honor A. P., the second choice at 7-1, closed from last for fourth on a racetrack that jockey Mike Smith said he failed to handle. Slow to leave the gate, the John Shirreffs trainee raced wide and finished five lengths behind the winner.
"He spun out from the word go. Really did," Smith said.
Max Player, Storm the Court, Enforceable, Ny Traffic, Necker Island, Major Fed, Sole Volante, Winning Impression, Money Moves, Attachment Rate, and South Bend completed the order of finish. With a field of only 15, it was the shortest starting lineup since 1998.
Comparing this win to the others, Baffert said simply, "This is the weirdest."
COVID-19 resulted in the race being rescheduled from its standard running on the first Saturday in May to the first Saturday in September. This was the first time since World War II in 1945 that the Derby was not run on its traditional date.
The pandemic also altered the scheduling of other races in the Triple Crown. The Belmont Stakes Presented by NYRA Bets (G1), usually the final leg in the series, was the first leg this year June 20. It was also shortened to 1 1/8 miles, a change that did not bother Tiz the Law, who made it one of his four graded stakes victories in 2020.
The Preakness Stakes (G1) at Pimlico Race Course, the regular second leg, was moved to last in the sequence and is set for Oct. 3.
The Derby, like the Belmont, was run without fans in attendance as a health measure. Preakness officials have announced that race will follow suit.
Breeders' Cup officials have not made an announcement about fans for that two-day event at Keeneland Nov. 6-7, though it, too, could be affected by COVID-19.
Authentic is eligible for a $1 million bonus offered by Monmouth Park if he can win the Longines Breeders' Cup Classic (G1) after his victories in the Haskell and the Derby.
Though fans were not allowed, track officials gave limited access to media, owners, and owners' guests, joining essential track staff and trainers, assistants, grooms, and other caretakers.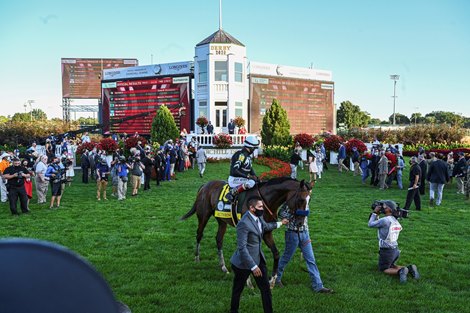 Meanwhile, outside the gates, protesters asked for justice for Breonna Taylor, a Black woman who was killed by Louisville police this year. The Derby, a focal point for the city and the state, provided a stage for their call for action.
The movement was not overlooked by Velazquez, who wore a band around his leg that read "Equality"—as did other riders.
Though Churchill Downs' facility was closed to protesters, who were closely monitored by police along Central Avenue, the track acknowledged the call for social change. Announcer Travis Stone read a company message as the Derby field left the paddock, and a moment of silence was observed before the playing of "My Old Kentucky Home" by Churchill bugler Steve Buttleman.
The small crowd in attendance, mostly horsemen, applauded as the horses neared the starting gate, but the deafening roar of 150,000 fans was absent.
Despite the diminished Derby vibe, participants were thankful the race was run this year. It led to a defining moment for Baffert, an accomplishment noticed by his teenage son, Bode, who praised Authentic and took a moment to reflect on his father's achievements.
"I'm so happy for him. He's done such a good job," Bode said. "He's such a good dad to me. I'm just so happy for him right now."