BALANCHINE (GROUP 2)
$250,000 | 1800m (turf)
Winner: MAGIC LILY
Pedigree: New Approach – Dancing Rain (Danehill Dancer)
Owner: Godolphin
Trainer: Charlie Appleby
Jockey: William Buick
Official Time: 1:47.65 (new stakes record)
Track Record: 1:45.52 – Just a Way, 2014
Previous Stakes Record (Meydan): 1:48.58 – Sajjhaa, 2013
Margin of Victory: 1¼ Lengths
William Buick, Jockey, MAGIC LILY (1st)—"She was always going to appreciate the extra furlong in trip. She came on from the Cape Verdi and I thought that was a good performance today. In typical fashion, she hit the front in the straight and just grinds it out. She travels well and wears her heart on her sleeve. She's a good fighter."
Charlie Appleby, Trainer, MAGIC LILY (1st)—"What I liked about her this evening is she seems to be growing up. She only had four runs in her career before coming to Meydan. She's behaved herself and got into a lovely rhythm and I was always confident going into the straight that she would hit the line strong. Stepping up in trip, we were always confident. It wasn't our intention to win the Cape Verdi (four weeks ago), because the mile was a bit sharp for her, but (she won) and we were confident coming into today. Perhaps we could fall into something like the (Group 1) Jebel Hatta (on Super Saturday, March 7). We have Barney Roy and a couple others and one other meeting to have a look at it. We will appreciate this evening and look forward to the future with her."
Pierre-Charles Boudot, Jockey, NISREEN (2nd)—"She ran well. The travel was very good behind Magic Lily, but maybe Magic Lily was just better than (Nisreen) today." 
Mickael Barzalona, Jockey, MAAMORA (3rd)—"My filly improved a lot since her last run. Today she travelled good and I think she just got beat by better horses. The plan was to go forward, then I was pretty happy with my position, but then I got pressure from the outside horse and my filly took the bit. I just let her go and she did very well."
Dubai World Cup Carnival – 7th Meeting
DUBAI (February 13, 2020)—Thursday's $1.05 million seventh night of the 2020 Dubai World Cup Carnival was sponsored by pillar partner Gulf News and saw breakout performances throughout the evening. The features of the evening were the Group 3 Firebreak Stakes on dirt over 1600m and the Group 2 Balanchine over 1800m on turf, but various races throughout the evening gave clues toward what appears to be a thrilling upcoming Dubai World Cup night on March 28.
The $200,000 Firebreak Stakes (G3) was made marginally less exciting when race favourite Muntazah scratched earlier in the day, but fireworks were still in order with the resurfacing of beaten Dubai World Cup favourite Capezzano returning in a big way, putting his foes to bed with a seven-length gate-to-wire victory under Mickael Barzalona and showing why he is officially rated 117.
The Sultan Ali-owned son of Bernardini won for the fourth time over the 1600m distance at Meydan, including three handicaps over the previous two DWC Carnivals, and improved his record to six wins from 16 starts. He carved out 400m fractions of 24.96, 47.76 and 1:11.91 en route to finishing up in a stakes record 1:36.23 and winning by seven lengths. Dubai Creek Mile (Listed) winner Secret Ambition overcame a poor break to finish second, three-quarters of a length to the good of Capezzano's stablemate Matterhorn. Ambassadorial, Quip, Fight On, Walking Thunder and Thegreatcollection completed the order of finish.
Winner of last year's Group 1 Al Maktoum Challenge R3 over Thunder Snow, Capezzano was last seen finishing last of 12 in Meydan's biggest event, but has multiple massive events on his radar in 2020. In addition to redemption in the Dubai World Cup sponsored by Emirates Airline (G1) on March 28, he is taking aim on the Saudi Cup on Feb. 29 for trainer Salem bin Ghadayer.
"We expected a big run from and it was good for him to see the track before the big races," Barzalona said. "He ran a big race and should have plenty left in the tank. We are pretty happy with the way he is handling it before the race. He keeps improving. I'm pretty sure this will give him a lot of confidence. Now he will fly over there (to Saudi Arabia) and the track will suit him over there, as well. Hopefully he runs a big race. I'm very pleased with the way Capezzano ran today.
"Always his first time out, he doesn't perform (well), but we saved him this year since we heard about the Saudi race and for (Dubai) World Cup," Bin Ghadayer added. "We believe in this horse and his ability. We wanted to wait until this race. I know it's just two weeks until the Saudi Cup, but we needed the race for his confidence and thank God he performed well. He showed his ability. We will go to the Saudi race and then (Dubai) World Cup night."
The Group 2 $250,000 Balanchine, like the past two years, was won by the Cape Verdi (G2) winner, as Godolphin's Magic Lily continued her ascension for trainer Charlie Appleby. Relaxing behind the pace-setting Maamora and always keeping chief rival—and Cape Verdi runner-up—Nisreen within eye-shot, the daughter of New Approach and dual Oaks winner Dancing Rain overtook the former before holding off the latter by 1¼ lengths. Finishing up the 1800m in a stakes record 1:47.65, the emblazoned chestnut may have possibly stamped her ticket to face the boys on Super Saturday over the same nine-furlong trip.
"She was always going to appreciate the extra furlong in trip," Buick said. "She came on from the Cape Verdi and I thought that was a good performance today. In typical fashion, she hit the front in the straight and just grinds it out. She travels well and wears her heart on her sleeve. She's a good fighter."
"What I liked about her this evening is she seems to be growing up," Appleby added. "She only had four runs in her career before coming to Meydan. She's behaved herself and got into a lovely rhythm and I was always confident going into the straight that she would hit the line strong. Stepping up in trip, we were always confident. It wasn't our intention to win the Cape Verdi (four weeks ago), because the mile was a bit sharp for her, but (she won) and we were confident coming into today. Perhaps we could fall into something like the (Group 1) Jebel Hatta (on Super Saturday, March 7). We have Barney Roy and a couple others and one other meeting to have a look at it. We will appreciate this evening and look forward to the future with her."
The opening race, for purebred Arabians, was the Group 2 Mazrat Al Ruwayah sponsored by Wheels over 1600m, which was won in comfortable style by Rasi, ridden with confidence by Harry Bentley for owner Musallam Ali Said Qatan and trainer Sulaiman Al Ghunaimi. Tracking comfortably in mid-pack until tipping out at the top of the lane into the three-path, the 9-year-old son of Mared Al Sahra beat eventual runner-up RB Lam Tara to the punch of overtaking pace-setting Wadeeaa and then powered clear to a 2¾-length victory.
It was Rasi's 10th victory from 37 starts and fifth from 16 on the dirt for the Oman-based charge. The final time was 1:46.80, with Wadeeaa holding onto third over beaten favourite and defending champion AF Al Sajanjle in fourth.
""I know this horse stays further, so I was keen to be positive and utilise his stamina," Bentley said. "I was happy to commit for home a long way out. Fair play to connections, who have brought him here in rude health and he travelled very strongly. It is a big result for them representing Oman here at Meydan."
The 3-year-olds had their first chance of the DWC Carnival to go a route of ground on the turf in the $100,000 Meydan Trophy sponsored by getthat.com over 1900m. Denying an international field their chance at Dubai glory, Godolphin's UAE-based Ya Hayati loved the conditions for trainer Charlie Appleby, winning in determined fashion under William Buick by one length. Making a mid-race move to reach contention, the blue-blooded son of Dubawi then held off Sweden's Timo Nurmos to his inside and Denmark's Grey Flash to his outside, crossing the line in a course record 1:56.16 (albeit a time that is rarely contested).
Bred for the dirt, but obviously effective on the grass, the progeny of multiple dirt G1 winner Wedding Toast could try said surface in his next run, with the $300,000 Al Bastakiya (Listed) on Super Saturday as a possible option. Previously, the bay colt had won one of two starts—both on Kempton's all-weather in England, including a victory last out on Oct. 28.
"He has been a bit of a character at times and is still somewhat immature, so definitely work in progress so to speak," Appleby said. "We wanted to run him on turf first before trying him on the dirt, but he will switch surface now and possibly go for the Al Bastakiya."
Bochart proved too much early and late for his rivals in the 1200m $135,000 Tablord Handicap on dirt, stamping what could be a ticket to Super Saturday by manhandling his foes by 7½ lengths in a sharp time of 1:10.87. It was the second consecutive race in which the burly chestnut had gate-to-wired his foes in under 1:11, but this time against tougher competition, including multiple Group 3 winner Switzerland (who checked in seventh) and last-out Al Shindagha Sprint (G3) runner-up Truck Salesman, whose failure to break well all but ruined his chances while bringing up the rear.
Doug O'Neill-trained Prodigal Son suffered a wide trip, but 'came home' well to be second, 1¾ lengths over last year's winner of this race, Lavaspin, in third. The winner, like Lavaspin, is trained by Satish Seemar. The victorious Al Bait Mutawahed Team-owned son of Dubawi crossed the line first for the seventh time in 26 dirt starts and further proved his prowess at six furlongs after breaking from the rail and never looking back under Richard Mullen.
"He is an amazing horse," Mullen said. "With all the problems he has had and come through, so for him to even be still racing is testament to him. He is a jockey's dream because he pings the gates and—as he gets older—he seems to be getting faster and we are now training him as a sprinter which we have not always done. He was always happy and in a nice rhythm, so I was able to get a breather into him before he really quickened to win his race in style. I imagine we will have to go to Super Saturday and the Mahab Al Shimaal."
HH Sheikh Hamdan bin Rashid Al Maktoum's Waady held off a stubborn American invader Torosay in the 1000m handicap down the straight chute, giving the local fans a Doug-Doug 1-2 finish, except it was Doug Watson over Doug O'Neill. Second last out to very highly regarded Equilateral in the Dubai Dash (Listed) over this trip, he finished up the 1000m in a swift 57.24 seconds with Jim Crowley aboard for his main employer.
The winner won for the eighth time in 31 starts and gave six-time UAE champion trainer Watson a sixth winner of the 2020 DWC Carnival. Eleven-year-old Group 2 winner Caspian Prince held on for third in the thrilling affair. A trip to Super Saturday may be in order for the 8-year-old son of Approve and the Nad Al Sheba Turf Sprint (G3)—the course and 1200m distance prep for the Group 1 $2 million Al Quoz Sprint sponsored by Azizi Developments.
"He has done that well and has been in good form this season," Crowley said. "He was beaten only by Equilateral last time, who looks a very smart sprinter, so we were quite hopeful coming here tonight."
In the nightcap, over 2410m on turf, Godolphin's Eynhallow may have been one of the less-regarded of the eight entered (of 16 runners) from the boys in blue, but he was ridden with a favourite's confidence by Mickael Barzalona, making all with style and giving the jockey a double on the night. Trainer Charlie and Appleby closed out the card with a triple in the process and the son of Nathaniel won his third from 17 starts in what was his first start since Sept. 19.
fonte : DRC
Review
All-the-way success for Eynhallow at Meydan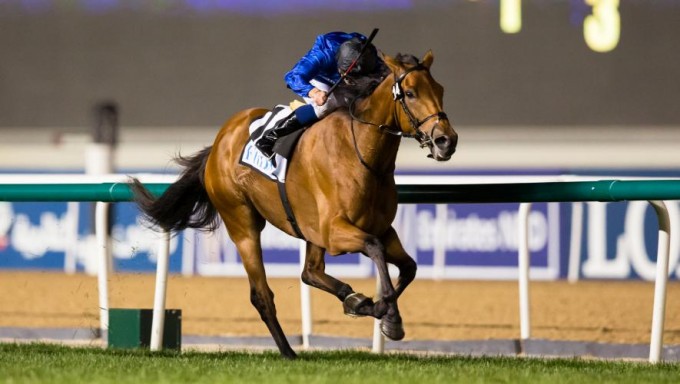 Eynhallow benefited from a change in tactics as he made all to take a 12-furlong turf handicap on week seven of the Dubai World Cup Carnival at Meydan, UAE, on Thursday, 13 February.
The six-year-old, making his seasonal return for Charlie Appleby, was pushed along leaving the stalls and immediately took up the running on the inside rail. He kicked on at the top of the straight and responded bravely for Mickael Barzalona, resisting the late challenge of Koeman for a neck verdict.
Charlie Appleby said: "Eynhallow is a very genuine horse and Mickael has given him a lovely ride. All he does in his races is maintain a gallop and that is exactly what he has done. Full credit to the horse – he was racing off a handy weight this evening but has always threatened to put together a performance like that.
"Stepping up in trip might test his stamina a bit more. He is happy to get on the front end but there might be a question mark over him being able to maintain that gallop over an extreme distance. We will take tonight, regroup and see where we are."
Mickael Barzalona said: "We used to take Eynhallow back in his races but we wanted to let him find his rhythm today and he was pretty happy in front. I think it was a bit easier for both me and him tonight.
"This was his first run of the year and he got a bit tired in the end, so I am sure that he is going to improve for it. We will see what he is able to do next time."
fonte : Godolphin