Shooting To Heart risolve la più dotata tra le tre condizionate al galoppo, Ippodromo del Mediterraneo
Shooting To Heart, Special Rush e Jllary sono gli attori principali delle tre condizionate, divise per età, che hanno reso ricco il convegno di galoppo all'Ippodromo del Mediterraneo. Cominciamo dal più dotato Premio Varsavia, che ha ingaggiato i 2 anni sui 1500 metri della pista piccola. Lode alla performance di Shooting to Heart che trova il primo successo, battendo la tanto temuta novità in pista Multiple Choice. In sella Giuseppe Gentilesca che, ai 150 metri dalla meta, attacca e passa il nuovo valido allievo di Marcello Restuccia concedendogli solo la migliore piazza.  Ancora dentro il marcatore El Nanos che chiude la terna .E'  match annunciato e concretizzato nel Premio Thanks To Tim.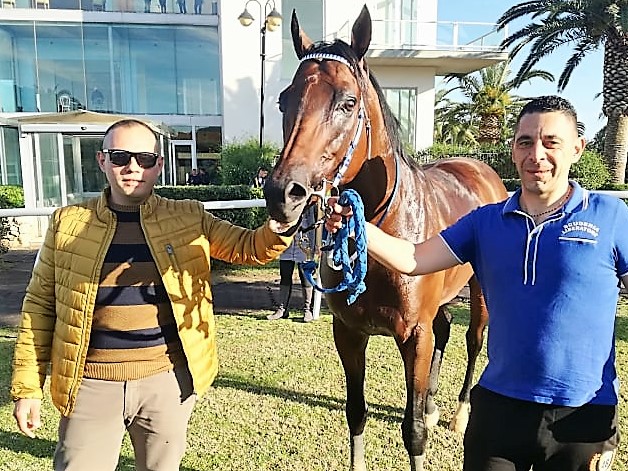 Si danno battaglia per tutti i 1900 metri Special Rush e Sir Fortress, con il primo che condotto da Federico Bossa alla fine prevale sul rivale "boschiano". Buona la prima di Jllary che sigla, invece, il Premio Portiere di Notte, che  riserva gli onerosi 2100 della pista piccola stavolta a cavalli di 3 anni. Gestita in maniera impeccabile da Giuseppe Manuele, la nuova scommessa di Vincenzo Caruso, in retta d'arrivo va all'attacco di Principe Azzurro e lo supera. Per il favorito Kodi Dream rimane a disposizione solo la terza moneta. Cominiciano a scaldarsi gli animi in attesa dell'ormai prossimo Meeting Internazionale del Galoppo e del Trotto che alzeranno il sipario, all' Ippodromo del Mediterraneo, nei giorni 6, 7 e 8 Dicembre.
arrivi-e-quote-galoppo-30-novembre-2019
The year's top juveniles are set to face each other in the Breeders' Cup (KOR G2) at Busan on Sunday afternoon. Seoul's champion Roller Blade takes on Busan's Save The World along with twelve others over 1400M, with the winner to be crowned the nation's Champion two-year-old of 2019. There are 6 races at Busan from 12:40 to 17:10 while at Seoul there are 11 from 10:45 to 18:00.
Here is the horse by horse guide to the Breeders' Cup with Seoul's race by race and selections for the remainder of the Busan card below:
ROLLER BLADE – A winner of four from five so far including both of Seoul's first two juvenile series legs, making all both times. He's drawn well on the inside again and while he, like all the others here, is in unchartered territory at seven furlongs, he'll surely stay on without issue. A big chance.
K N ROAD – Just the one win from five but he ran 3rd in both Munhwa and Nonghyup Trophies, getting much closer in the latter. He seems to be improving and he is one who is set to benefit for the increase in distance today. A top jockey travels with him and he can go close.
MARK ONE – No concerns about staying the distance with this one. If anything, it could be too short as he broke his maiden over a mile last month. He led all the way and has a big race jockey on board. Outsider but not without a chance of some money.
MAN OF THE FIELD – He ran 3rd behind Save The World in the Breeders' Cup Trial last month but was some way in arrears so has plenty to make up. He runs on well though so should appreciate the step up in trip and can run into some money again.
YEONGCHEON JILJU – Half-brother to 2015 Korean Derby winner Yeongcheon Ace as well as a couple of other talented runners. His two wins have come at 1400M and he'll handle the distance well. Deeper waters today and others are faster but he can come from off the pace and finish well.
DETERMINATION – Looks a potential star in the making. After running 3rd on debut, he's since won three in facile fashion including up at 1700M. Currently rated ten points below Roller Blade and Save The World, if those two end up going too fast, he'll have plenty left late on to make his move.
MENI HERO – Gets to take his chance after a spectacular success over 1300M at the end of October. It was only at class 5 but he absolutely blitzed them to register his maiden win. Obviously this is much harder but he's drawn well to get on speed again and could cause problems.
AFLEET YOUNG – Comes in off two nice wins over a mile, the most recent at class 5, coming from just behind the speed on both occasions. He's shown a decent turn of foot as well but back at 1400M, others are favoured.
TOP DAY – The only horse in the race from top trainer Kim Young-kwan. After winning his first two races very tidily, he's struggled in three attempts since. Two of those were behind Save The World and he only managed 7th in the Breeders' Cup trial. He will attract some support due to the stable and his dam is a Korean Derby winner but this looks a stretch. We'll likely see him in contention in the Spring Classics.
CHOIN GANGJA – Ran on very nicely from well back to end up 4th in the Nonghyup Trophy last month, He's consistently posted competitive times and looks to be a progressive type who will only get better as the distances get longer. He has a real placing chance here.
SAVE THE WORLD – The only one to come in with an unbeaten record having won his four races by a combined margin of twenty-one lengths. His latest was a comfortable score in the Breeders' Cup Trial on October 27th beating Doctor Carson – who went on to win last week's Gyeongnam Do Min Ilbo Cup – very easily. He has home advantage and he will be a deserved favourite.
DONGTEUJA DAY – Beaten by Save The World on debut before winning his next two to earn a crack at the Breeders' Cup Trial. Didn't show up that day, weakening into last place. Gets another chance here but will be an outsider
Here are the Seoul Previews:
Race 1: Class 6 (1300M) Allowance / KRW 60 Million
A big day of racing kicks off with the two-year-olds lining up over the 1300m. (5) NEW MOON WARRIOR looks the one to beat coming off an impressive debut. The Peace Rules gelding bounced out of the gates well in his first run but couldn't rein in the leader Power Tower. They ran a fast time and the step up to the 1300m should suit. (8) DAESUNG QUEEN is having her third career start. She has placed at both outings to date including a well beaten third last time out. This is her second run over the 1300m and she will take improvement out of her last run. (6) BAEKDUSAN CHEONJI will need to improve to be a winning chance but is in the mix to fill a place. Connections of the Hansen colt will be looking for improvement of his last run when finishing midfield over the 1300m. (11) BEST TAP ran home fairly last time out when finishing fifth behind Dynamic Punch. At his first start he finished third over the five furlongs. At both starts to date he hasn't clocked fast times but he is one that can fill a place.
Selections (5) New Moon Warrior (8) Daeseung Queen (6) Baekdusan Cheonji (11) Best Tap
Next Best 2, 1
Fast Start 5, 8
Race 2: Class 6 (1000M) Allowance / KRW 60 Million
Another batch of two-year-olds will line up in the second but this time over the five furlongs. It is hard to go past the performance of (10) EAST ONE when looking at the times they posted last start. The son of One Cool Cat finished fourth behind Gyoryongdeuksu when running 62.2 for the 1000m. None of his counterparts in this assignment have posted a time close to his and based on that he looks the one to beat. He looks best suited to be ridden positively out of the gates and be on speed. (8) WANGINHAENGCHA handed in a nice trial performance when not over-exerted. Lee Dong-Ha has been riding well of late and he will have a good chance to finish in the money in this race. (3) SPEED BIRD is another that trialed fairly when qualifying. His dam was a handy Canadian-bred mare who won over $500k US in the states. Watch with interest as he takes to the track for the first time.
Selections (10) East One (8) Wanginhaengcha (3) Speed Bird (4) My Member
Next Best 6, 9
Fast Start 8, 10
Race 3: Class 4 (1200M) Handicap / KRW 60 Million
One of the best bets on the card will line up in the third over the 1200m. (8) MARK STORY made a lasting impression when blowing his rivals away on debut. The import ran a fair trial when not overly asked for but followed that up with an impressive debut win clocking 59.5 for the 1000m on a dry-rated track. We suggest his counterparts look at his head behind the gates because if all goes to plan, they'll only see his backside in the run. (7) LORD BAN ran a fair race when debuting over the 1300m. He sat on speed and
SILVER PROSPECTOR UPSETS TIZ THE LAW IN KYJC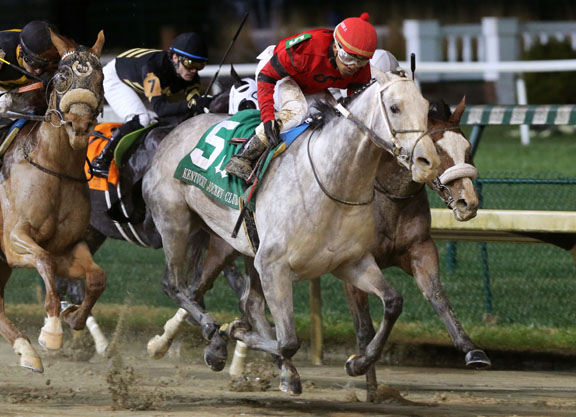 Silver Prospector (Declaration of War) pulled off the upset beneath the Twin Spires Saturday, besting previously undefeated Tiz the Law (Constitution) in the GII Kentucky Jockey Club S. Tiz the Law, who was the talk of the town since his decisive score in the GI Champagne S. Oct. 5, finished third in a photo with longshot Finnick the Fierce (Dialed In). The win provided trainer Steve Asmussen wit a sweep of the day's graded events as he saddled Finite (Munnings) to hisfirst victory in the GII Golden Rod S. earlier on the card.
Silver Prospector raced in mid-pack as 84-1 shot New Eagle (Street Boss) showed the way through early splits of :24.39 and: 49.92 with Tiz the Law racing a length off the leader, boxed in on the fence in a joint third. Launching a three-wide bid on the backstretch run, the gray drew alongside the pacesetter and South Bend (Algorithms) turning for home with Tiz the Law crying out for running room behind them. South Bend backed out of it in early stretch, making room for Tiz the Law to join the fray between Silver Prospector and a game New Eagle as Finnick the Fierce ranged up menacingly on their outside. The pacesetter threw in the towel leaving Silver Prospector and Tiz the Law to battle it out as Finnick the Fierce continued his charge on the outside, but it was Silver Prospector who pulled clear at the line to score at odds of 7-1. Finnick the Fierce nosed out favored Tiz the Law in a photo for second.
https://www.thoroughbreddailynews.com/pdf/tdn/tdn191201e.pdf