By Lee Mottershead
It may have been the first Japan Cup staged without any international horses but it was won by a brilliant international rider as Oisin Murphy, the new champion jockey of British racing, dazzled on a global stage aboard Suave Richard.
A love affair between man and nation was born last year when Murphy spent the winter riding in Japan.
He was eager to return and will remember the second stint for the rest of his life after perfectly guiding the Yasushi Shono-trained Suave Richard to victory and an enormous first prize of £2,167,824.
All week long Japanese racing fans, administrators and journalists have been perplexed and disappointed by the absence of foreign challengers. They will likely now also be concerned that the attendance of 80,826 was by far the lowest in the contest's recent history, down from 98,988 12 months ago and the 1995 high of 187,524. Yet Tokyo racecourse still felt busy and loud, as it most definitely did for the triumphant jockey.
"I'm absolutely over the moon," said Murphy. "It's one of the biggest achievements of my short career. I'm thrilled."
There had already been some very big achievements, not least the four Group 1 wins secured for his Qatar Racing employers last year aboard the mighty Roaring Lion. The colt's death this summer hit Murphy hard but there has been welcome cheer in recent weeks, with his championship title followed by Group 1 glory on Kameko and now success in the Longines-sponsored Japan Cup.
As so often in sport, however, luck played its part. Murphy would have partnered Curren Bouquetd'or had he been able to make her 8st 5lb weight. Instead the 24-year-old switched to Suave Richard,  a five-year-old who had lost his previous seven starts. Murphy believed headgear might make his new mount run faster. When the rail-running duo swept past Curren Bouquetd'or just before the 200-metre pole, it was obvious Murphy had been right.
"Suave Richard is a top-class horse and the trainer did a great job," said Murphy.
"They were very confident but it was my idea to put cheekpieces on him. I said to the Racing Post beforehand that he galloped brilliantly in them, so it made sense to keep them on. His last few starts weren't fantastic but I knew he had a great chance and everything went right in the run. I had a plan and, thankfully, it came off.
"I wanted to go mad when we crossed the line – but I had to behave because I'm in Japan!"
Murphy will remain in Japan until well into 2020. It is possible that when back in Britain he might have the chance to be reunited with Suave Richard, whose owners will consider a European campaign, having this year seen the horse finish third in the Dubai Sheema Classic.
That, though, is all in the future, which is exactly where Murphy's mind is constantly fixed. Even so, as he soaked up the acclaim of his new Japanese fan club, the present seemed pretty good as well.

TOKYO (JPN)
15 ran – Distances: ¾l, 1½l, 1¾l – Time: 2m 25.90s – Unplaced Fav: Rey De Oro 16/5F
Winning jockey: 
Winning trainer: 
PARI-MUTUEL (all including 100 jpy stake): WIN 510; SHOW 180, 280, 170; DF 2900; SF 4810
fonte : RacingPost
DEVANT LA FOULE DES GRANDS JOURS, C'EST LE 5 ANS SUAVE RICHARD QUI REMPORTE CE DIMANCHE LA JAPAN CUP (GR1). LE FILS DE HEART'S CRY OFFRE UN PREMIER SUCCÈS À SON MENTOR YASUSHI SHONO ET À SON JOCKEY OISIN MURPHY DANS CE PRESTIGIEUX GROUPE 1 JAPONAIS.
Parmi les épreuves les plus convoitées au pays du Soleil-levant, la Japan Cup ne réunissait cette année que des chevaux japonais. Troisième en juin du Takarazuka Kinen et récent 7e pour sa rentrée du Tenno Sho, Suave Richard renoue brillamment avec le succès dans ce Groupe 1 long de 2.400 mètres. Dans une épreuve longtemps animée par Daiwa Cagney, le partenaire de Oisin Murphy prend le meilleur côté corde à 200 mètres du but et l'emporte finalement de ¾ de longueur devant Curren Bouquetd'Or et Wagnerian. Longtemps attardé, Makahiki refait un terrain considérable dans la phase finale mais doit se contenter de la 4e place. Respectivement associés à Christophe-Patrice Lemaire et Christophe Soumillon, Muito Obrigado et Cheval Grand n'ont pu se montrer dangereux.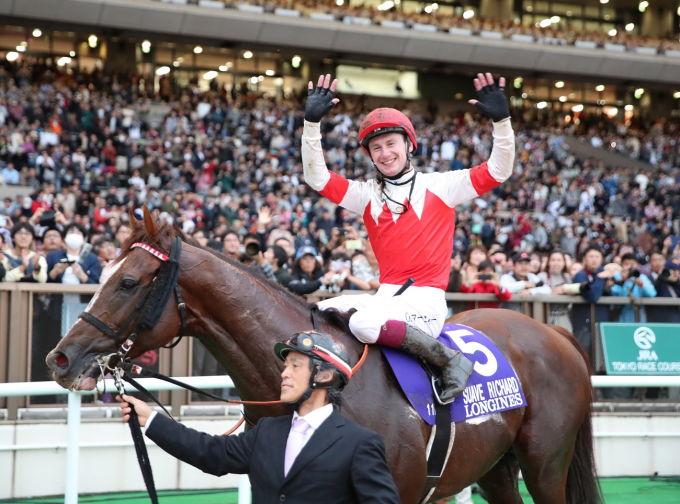 Sacré cette saison meilleur jockey en Grande Bretagne, Oisin Murphy vit une année 2019 assez extraordinaire. Ce succès dans la Japan Cup conforte un CV déjà bien rempli pour un jeune homme de seulement 24 ans.  (https://www.equidia.fr/articles/actualite/suave-richard-decroche-le-graal-dans-la-japan-cup) – to see the video of the race.
Arrivée : 5-1-2-14 ( fonte : Equidià)