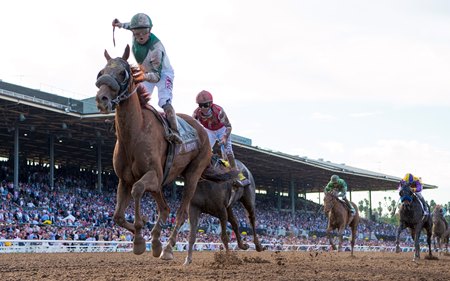 Blue Prize takes the Breeders' Cup Distaff at Santa Anita Park
The 6-year-old mare held off favored Midnight Bisou.
The trophies were silver, the $2 million purse money green, and the banners a brilliant shade of Breeders' Cup purple. But the only color that mattered in the winner's circle after the Longines Breeders' Cup Distaff (G1) Nov. 2 at 
Santa Anita Park
 was blue. 
In a thrilling stretch duel that cost undefeated favorite Midnight Bisou a perfect season, Merriebelle Stable's Blue Prize took home winning honors and bragging rights when she became only the third Argentine-bred to win the Distaff in the 36-year history of the Breeders' Cup. 
"To be honest, I should have suspected something like this would happen today because my wife made me trim my beard last night," joked John Moores of Merriebelle Stable. "I had no idea, but I'm awfully glad I did. 
"I don't know what to say about this. This was a total shock to me. I think the last 20, 30 seconds of that race I'll never forget as long as I live. It's been an unbelievable experience." 
It was a slow break from the gate for Bravo and Blue Prize, who started from the far outside post 11. Bravo settled his mount early, just near the back of the pack in eighth.
Longines Kentucky Oaks (G1) winner Serengeti Empress sprinted to the lead to set the pace on the rail, ticking off fractions of :22.98, :46.68, and 1:10.83 for six furlongs. Mo See Cal and Paradise Woods tracked the pace just behind Serengeti Empress, battling it out for second and third. Ollie's Candy was angled out four wide in the backstretch and came into contention briefly at the six-furlong mark, coming within 1 1/2 lengths of Serengeti Empress. 
Turning for home, it looked briefly as though Serengeti Empress could hold out to the wire, but her lead begin to slip as Midnight Bisou made her move wide at the top of the stretch and stormed forward with her signature late kick. 
Blue Prize, who made her own five-wide move coming off the second turn, set her sights on the leaders and dug in to challenge. Midnight Bisou continued to drive to the wire as Blue Prize came on even terms with the new frontrunner. Midnight Bisou fought valiantly to hold her foe at bay but did not have enough to turn back Blue Prize, who rolled past the division leader and crossed the finish line 1 1/2 lengths clear.
The final time for the 1 1/8 miles was 1:50.50 over a track rated fast. 
"Down the backside, she was going by everybody. … Dreams come true," said jockey Joe Bravo, who at age 48 collected his first Breeders' Cup win. "The trip was great. She broke a little slower than I expected, but she was moving up on the backside nice. I looked over and saw Mike Smith kind of asking Midnight Bisou a little soon. Blue Prize was really running her race. When we turned for home, she went on with it."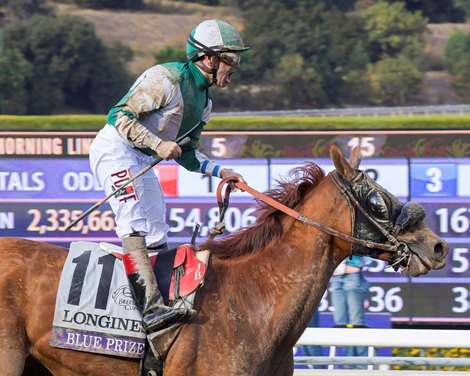 Midnight Bisou finished second, 3 1/4 lengths in front of third-place Serengeti Empress. Ollie's Candy took fourth, followed by Dunbar Road, Mo See Cal, Wow Cat, Street Band, Secret Spice, La Force, and Paradise Woods. 
Blue Prize returned $19.80 to win on a $2 wager. 
"First of all, I need to thank Blue Prize," said Correas. "She has been so great for all of us and I think she has shown that the only change that we have from last year to this one is to just wait a little bit more in the last three races. She's so unique. She had been facing champion after champion in the last two months. And I want to thank Joe. it's also my first Breeders' Cup, hopefully not the last one, and thanks to Merriebelle Stable for all the support they gave me. 
"It's not about my level of satisfaction, it's about the filly. She has beaten Elate and Midnight Bisou in two months. What else do you want to ask of a horse? She's a champion, and all the credit is for her. We have been blessed to have her. It's been a great ride. We have great owners who let us plan and execute. But it's all about this filly."
Runner-up Midnight Bisou closed out her season with a solid effort that made her connections, most especially trainer Steve Asmussen, proud to have her in his barn. 
"Nothing Midnight Bisou does for us is disappointing," said trainer Steve Asmussen, who has guided Midnight Bisou through seven graded stakes victories this season. "She had a tremendous amount to overcome with all the dirt she took early. A quality filly bested her and got first run on her around the turn. She continued to run, and I'm unbelievably proud of her."
Midnight Bisou's connections announced earlier in the day that the Midnight Lute  filly was withdrawn from The November Sale, Fasig-Tipton's marquee breeding stock sale Nov. 5, and will return to race at 5. 
"She's unbelievable," Asmussen said. "There is no give up in her. For her to keep coming under those circumstances is unbelievable, because around the turn she looked hopeless. But she just showed her class. She kept coming."
Though she is winless in four starts since taking the American fillies classic at Churchill Downs, third-place Serengeti Empress in no way gave trainer Tom Amoss any reason to lament the loss. 
"I feel much better after that. Very proud of my horse," Amoss said. "Those are two very talented older mares who beat her. I'm very proud of my horse. Like I said, we'll be back next year."
The Distaff victory is the final stop on a long road to the World Championships for the daughter of Pure Prize who finished fourth in last year's renewal to champion 3-year-old filly Monomoy Girl. Blue Prize earned her berth in the Distaff by virtue of her repeat win in the Oct. 6 Juddmonte Spinster Stakes (G1) at Keeneland.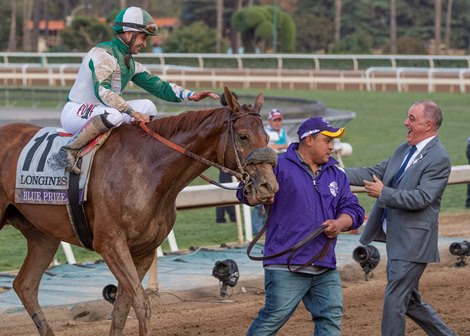 Paseana, winner of the 1992 Distaff, and Bayakoa—who won back-to-back renewals of the race in 1989-90—are the only other Argentine-breds to win the race. 
Bred by Bioart S. A. out of the Not For Sale mare Blues for Sale, Blue Prize began her career in her native Argentina. She made four starts in South America before being transferred to trainer Ignacio Correas IV's barn in 2017. 
Blue Prize, who is entered in The November Sale, has a 10-8-3 record from 23 starts and $2,692,253 in earnings. The 6-year-old is consigned as Hip 98 by Bluegrass Thoroughbred Services, agent for Merriebelle Stable. 
For now, Moores of Merriebelle Stable said no plans have been made to retain the mare in lieu of the sale.
"That's over my pay grade, to be real honest," said Moores. "I wish my partner and longtime friend, Charlie Noell, were here. Bt Charlie and I will have a heart-to-heart discussion about this. It's just hard to see a better horse than Blue Prize. It's been unbelievable."