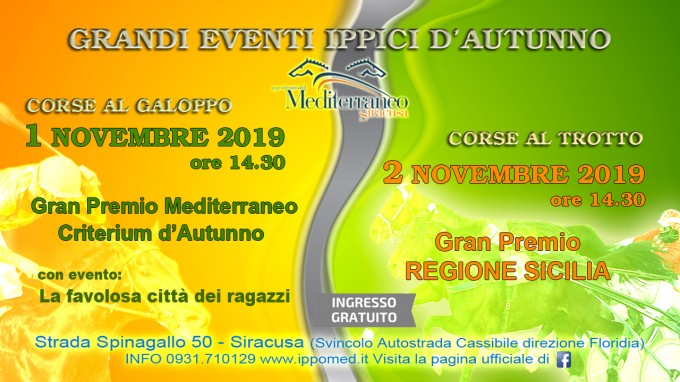 IPPODROMO DI  SIRACUSA GALOPPO, PARTENTI DICHIARATI PER LE CORSE DEL 01/11/19, INIZIO RIUNIONE ORE: 14.50
Grandi Eventi Ippici d'Autunno e la Favolosa Città dei Ragazzi 
Grandi Eventi Ippici d'Autunno approdano all'Ippodromo del Mediterraneo di Siracusa. Venerdì 1 e sabato 2 novembre, in programma due pomeriggi di gare al galoppo e al trotto con attese e ricche competizioni ed un evento collaterale: La Favolosa Città dei Ragazzi.
Venerdì 1 novembre, il pomeriggio inizierà alle ore 14:50 con le sette corse al galoppo, tra cui il Gran Premio del Mediterraneo, handicap principale C dal montepremi di 20 mila e 900 euro, dove tra i cavalli di 3 anni e oltre impegnati sui 1400 metri della pista grande in tutta evidenza è Repton. Tanti gli avversari: da Espoir Bere a Murdanova, da Sharming Girl a Duc del Rose.  Poi il Criterium d'Autunno, competizione riservata ai giovanissimi atleti di 2 anni che concorreranno, per una condizionata sul miglio di pista grande, per un montepremi di 22 mila euro. Si parte da Freccia Rossa per lasciare chance a Belong You, Havana Rock e il chiacchierato Letojanni. Per l'occasione organizzato un evento collaterale dedicato ai più giovani. La Favolosa Città dei Ragazzi porta al Mediterraneo, con ingresso gratuito, i Gufi e i Falchi dell'associazione Artigli del Re, affiancati da Harry Potter. Tra le principesse sarà Cenerentola, accompagnata dal Principe dalla Fatina, con la spettacolare carrozza di vetro, a ballare con bambini e adulti. E ancora Cars e Cricchetto, Woody e Buzz ad accompagnare il battesimo della sella. L'accoglienza consegnata ad un'affascinante trampoliere Pirata. Grisù e i pompieri per il progetto Pompieropoli saranno a disposizione per trasformare i piccoli in coraggiosi Vigili del Fuoco.
Sabato 2 novembre, invece, dalle ore 14:30, protagonista sarà il trotto con sette corse in programma di cui, per la prima volta a Siracusa, anche il Gran Premio Regione Sicilia, corsa di Gruppo 3 con più di 40 mila euro di montepremi. Sono scesi al Mediterraneo per l'occasione team ippici con i migliori indigeni di 5 anni e oltre e importati di 4 anni e oltre per affrontare la ricca competizione sul miglio. La Indal Srl schiera le temute Sonia e Ua Huka. Ci proverà la veloce Tina Turner. Attese anche Vaniti Bar e Volcada Bar. Nel Premio Uniforz in prima linea Zoraida Font e Zaira TRuppo, mentre per il Premio Filipp Roc attesissima Akela Pal Ferm.
I pomeriggi del 1 e 2 novembre si trascorrono nella struttura polifunzionale dell'Ippodromo del Mediterraneo di Siracusa dotata di numerosi servizi, al coperto o in tribuna, per assistere ad un ineguagliabile spettacolo.
Ingresso gratuito.
=01 I-14.50-PR. RODANO  E.6.600 DISCENDENTE M.1700
PISTA GRANDE–(TRIO)-
01 FIOREROSA             63     F.BOSSA                 5
 02 COLD STORM            62     GAB.CANNARELLA(A)  (A)  6
 03 STAR THOUGHTS         61.5   G.MANUELE               7
 04 TRAMONTO SICILIANO    60.5   G.GENTILESCA            1
 05 FULVA                 59.5   S.GUERRIERI             2 (P)
06 MADAME DARK           52     A.FUSCO                 3
 07 RAT BAT BLUE          52     G.SANNA                 4 (P)
=02 II-15.20-PR. OGLIO  E.12.100 CONDIZIONATA M.1800
PISTA SABBIA–(TRIO)-
01 COACH ME SOFTLY       53     D.SCALORA               6
 02 CUORE DEL GRAGO       54     G.SANNA                 2 (P)
03 DREAMSTIME            54.5   S.BASILE                5 (P)
04 GUAPO                 54     F.BOSSA                 7 (P)
05 MM BLUE ONYX          53     S.GUERRIERI             1 (P)
06 PULSATING DRAGON      56     A.CANNELLA              8
 07 SIR FORTRESS          52     GAB.CANNARELLA(A)  (A)  3 (P)
08 SPECIAL RUSH          54     G.GENTILESCA            4
=03 III-15.50-PR. CRITERIUM DÂ'AUTUNNO  E.22.000 CONDIZIONATA M.1600
PISTA GRANDE–(TRIO)-
01 BELONG YOU            58.5   S.BASILE                4
 02 CANDY CRUSHER         56     A.CANNELLA              7
 03 EURO DANDY            54     S.GUERRIERI             9
 04 FRECCIA ROSSA         56     GAB.CANNARELLA(A)  (A)  8
 05 GRAMATICA             52.5   S.GIARRATANA            2 (P)
06 HAVANA ROCK           54     F.BOSSA                 1
 07 LETOJANNI             56     G.CANNARELLA            3
 08 ROCKEY RACOON         54     G. CULTRARO(A)          5
 09 SUPER PULSE           54     S. SULAS                6
=04 IV-16.20-PR. LEPROTTO  E.5.500 DISCENDENTE DI M.1200
PISTA SABBIA–(TRISNAZIONALE)-
01 ST GEORGES CROSS      63.5   S.BASILE                14
02 SCREEN CITY           62     S. SULAS                1
 03 CAMDEN ZAC            60.5   S.GUERRIERI             16
04 MORSIVE               60.5   A.MEZZATESTA            8 (P)
05 SMALL BUT FAST        60.5   A.CANNELLA              3 (P)
06 QUIET WOODS           59.5   GAB.CANNARELLA(A)  (A)  4
 07 LEAR FALCON           58.5   D.SCALORA               2 (P)
08 ROCK ROYALTY          58.5   F.BOSSA                 15
09 SEA CHANTER           58.5   G.MANUELE               7
 10 BUONTEMPONE           56     G.CANNARELLA            5
 11 EBERARDO              56     G. CULTRARO(A)          6
 12 GRAND TRIP            56     G.GENTILESCA            9
 13 TANTI PALMIER         55.5   P. BORRELLI             10
14 CAPITAN SBUDELLA      55     A.FUSCO                 11(P)
15 CHILLI PEPPER         55     S.GIARRATANA            12(P)
16 ORMIXA                52.5   G.SANNA                 13(P)
=05 V-16.55-PR. MEDITERRANEO  E.20.900 HANDICAP PRINC M.1400
PISTA GRANDE–(TRISNAZIONALE)-
01 ESPOIR BERE           63     P. BORRELLI             11(P)
02 REPTON                62.5   G.CANNARELLA            1
 03 DORKHEL               61     S.BASILE                15
04 MURDANOVA             56.5   A.CANNELLA              2 (P)
05 SHARMING GIRL         54.5   S. SULAS                3
 06 DOMESTIC HEARTH       54     F.BOSSA                 5
 07 DUC DEL ROSE          53.5   A.MEZZATESTA            12
08 FILO BOY              53     D.SCALORA               13(P)
09 PRETZEL LOGIC         53     A.FUSCO                 16(P)
10 ROYAL DREAMER         52     F.CUSUMANO              14
11 ROYAL VICTORY         52     G.GENTILESCA            6 (P)
12 IL MALANDRINO         51.5   G.MANUELE               4
 13 QUIET GREY            50.5   GAB.CANNARELLA(A)  (A)  7
 14 BRIGHT STAR           50     G.SANNA                 8
 15 MITRANDIR             52     G. CULTRARO(A)          9 (P)
16 SAMBUCO               53     S.GUERRIERI             10
=06 VI-17.25-PR. GHEVIO  E.9.900 DISCENDENTE M.1700
PISTA GRANDE–(TRISNAZIONALE)-
01 LAGUNA DRIVE          62.5   P. BORRELLI             7
 02 YASOOD                62     A.CANNELLA              8 (P)
03 PRINCIPE AZZURRO      61     GAB.CANNARELLA(A)  (A)  2
 04 SOPRAN FURIA          60     D.SCALORA               5
 05 IRISH MOUNTAIN        58.5   S.GUERRIERI             9 (P)
06 EBLOUIS MOI           58     F.BOSSA                 10
07 YELLOWGREEN           58     G.CANNARELLA            1 (P)
08 NATURAL STORM         56.5   G.GENTILESCA            3
 09 RATMUSQUET            56.5   A.MEZZATESTA            4
 10 BLU HIRAM             50.5   G.SANNA                 11
11 LADYCAMMYOFCLARE      51     G.MANUELE               6 (P)
12 KISS ME QUIET         50.5   A.FUSCO                 12(P)
=07 VII-18.05-PR. RAGGIO DI SOLE  E.7.700 DISCENDENTE M.2300
PISTA GRANDE–(TRIO)-
01 POET'S STAR           64     S.BASILE                5 (P)
02 KINGSTON SASSAFRAS    62     A.CANNELLA              6
 03 DOLLAR DAYS           61     F.BOSSA                 10(P)
04 MADAMMENTO            58.5   GAB.CANNARELLA(A)  (A)  3
 05 ROYAL ALHEBAYEB       58     G.GENTILESCA            7 (P)
06 DELECTABLE            56     S.RIZZO PISCOPO         8
 07 GREGORIAN SILENCE     56     G.CANNARELLA            9
 08 SHOCKING BLU          56     P. BORRELLI             1
 09 FLASH BROWN           51     G.MANUELE               11(P)
10 NUIT DIABOLIK         52     G. CULTRARO(A)          2
 11 VETTORY LACHY         53     A.MEZZATESTA            4
fonte : Ippodromi del Mediterraneo
For the first time since 2014, a horse not named Triple Nine is going to win the President's Cup. The four-time winner of the richest all-aged race in the country that is restricted to Korean-bred runners – and resultingly, Korea's all-time leading money-earner – came back into training in late summer with a tilt at five in a row in mind, but a setback in early October means he hasn't made it.
A full field of sixteen have though and they will line up in race 9 this Sunday over the 2000M at Seoul. We'll have selections up later in the weekend but for now, here are all sixteen contenders.
President's Cup (KOR G1) 2000M / KRW 800 Million
WONDERFUL FLY – The easy winner of the Korean Derby in May, he struggled in the Minister's Cup the following month. He then won at class 3 over 1400M but had a hard time on his class 2 bow over 1800M at the end of September. That Moon Se Young gets off him to ride Simjangui Godong perhaps tells its own story but there was a more than capable replacement in Alan Munro. Will be a front-runner but whether he can stay on at this trip in this company is questionable.
SHARK DAEJANGGEUN – Well back behind Simjangui Godong on a wet track in July's Ilgan Sports but redeemed himself somewhat when 2nd in the JRA Trophy over 1800M on international weekend. Yet to win at higher than class 3. Generally operates as a deep closer so may need some luck but he can pass plenty late on.
NASCA PRINCE – A good class 1 winner over 2300M in May so his staying credentials are not in doubt. His form perhaps is though with him coming home 19th and 7th in two subsequent starts, both at 1800M. Nicely drawn to get to the front early and he can give a good account of himself although others are favoured.
KINGSTON HARBOR – One of two in the race for trainer Baik Kwang-yeol. A three-year-old, he didn't make it onto the Classic trail but won three in a row between May and July to get to class 2 level. Since then he has put in two 3rd place finishes, both at 1800M. Likely to settle just behind the early pace, this is his first try at the distance and in this company. Can go well but perhaps too much too soon.
SIMJANGUI GODONG – Ran 2nd in the Derby and 6th in the Minister's Cup but has been very good since then, winning the Ilgan Sports Cup and HRI Trophy in back to back starts in July and September and most recently scored over a mile at class 2 at a mile. Four of his five wins have come on wet tracks, but he looks to be the improver of the field and jockey Moon Se Young gets on him instead of the Derby winner. He'll be close to the pace early and has a big chance.
TOHAM ACE – An up and comer from Thomas Gillespie's stable, he recorded a five-race winning streak between March and August this year which saw him go from class 5 to class 2. That streak came to an end when 3rd behind Final Energy at 1800M on September 27th. He tests the distance for the first time and You Hyun-myung comes up from Busan to ride him. Goes best when at the front, this is a tough ask, but improvement is possible.
FINAL ENERGY –Managed an excellent 5th behind Blue Chipper in the Korea Sprint over 1200M here in September before returning to Busan and winning in a very fast time for 1800M ahead of Toham Ace at class 2 level at the end of September. It's his first time over the additional furlong today but he should be equal to it and has a big race jockey aboard. He has a chance.
DOKGO JIGI – A winner of eight from eleven, this is his first start since June, when he was a class 1 winner over 1800M. A mild bout of colic and injury have kept him out since then but he looked well enough when trialling up last week. His only defeat this year was his first try at class 1 back in April. He generally settles just off the pace and while this is a very tough ask first-up, he is a class act.
NEW LEGEND – Began his racing career in the United States, picking up a win at Arlington Park, before returning to Korea last autumn. He won his first four efforts easily before finding his match once he reached elite level company. Nevertheless, he has more than held his own with his only really disappointing run coming in the Korea Cup. He was 4th to Moonhak Chief here in the YTN Cup in his only previous try at this distance but this looks the ideal race for him. He has a chance.
MYEONGPUM CHUKJE – One of the better three-year-olds, he was 5th in the KRA Cup Mile, 4th in the Derby and then 2nd in the Minister's Cup. Since the conclusion of the Triple Crown, he has picked up one win in three starts and while it was only at class 3, it was over 1900M. He's a colt who seems to need a bit of distance so this should suit and while he has suffered reverses to four of his rivals today among his latest five starts, he could run into some minor money.
ROCK CHOICE – Joined the Triple Crown trail in the final leg and duly won the Minister's Cup extremely handily at odds in excess of 20/1. He then returned to Busan and promptly won at class 3 over 1800M but has failed to make an impact in two subsequent starts at class 2 level. The Minister's Cup win was the only race he's been ridden forward in, but he has won from behind before, albeit in weaker company. Can't be completely ruled out.
MAJOR ALPHA – A very consistent type, he got his first class 1 victory at odds of 40/1 when dropped back to 1400M in August. He bled for the first time in that race and was accordingly stood down for a month and sent back to trial, which he passed at the end of September. He has a 3rd place at class 2 to his name at this distance. While up against it here, he'll come from off the pace and can pass some in the latter stages of the race.
ULTRA ROCKET – A very good 4th in this race last year, he has subsequently established himself at class 1 level and comes into contention after a good win in the HKJC Trophy at 1800M on International weekend in September. He usually comes from off the pace with a strong finish which, given his draw, looks to be the likely tactics again here. He could go close.
ECTON BLADE – The 2018 Korean Derby winner has had an interrupted career since then, with only one subsequent victory to his name and that was all the way back last August. He returned just three weeks ago from eight months off and while he was well beaten, it was clear he needed the run. Obviously scope for improvement but this is a tough race and he'll be among the outsiders.
CLEAR GEOM – A somewhat surprising winner of the Gyeonggi Governor's Cup, the concluding leg of the "Triple Tiara" at this distance in June, she has since backed up that form with two wins from three more outings. She upset both Myeongpum Chukje and Wonderful Fly last start on September 29th over 1800M. She likes the distance and as both a three-year-old, and the only filly, she is getting weight from the entire field making her an interesting wildcard.
CAPTAIN FORCE – Stablemate of New Legend, he is one of the few genuine established top-class performers in the field with four wins at class 1 to his name. He comes in having won his latest start, which was over this distance, in very handy fashion. That was back in early June, so he has been off for five months. He did go through a barrier trial in October, which he won in good fashion. Likes to be close to the front so the draw does him no favours, but if he s at his best, he has an excellent chance. (fonte : Korea Horse Racing)
GOFFS
VIDEO:  November Foal Sale Preview
Rishi Persad and Henry Beeby discuss one of the highlights of an outstanding catalogue for this year's Goffs November Foal Sale in the first of our previews.
By Dubawi out of the Classic winning Galileo mare Nightime, this stunning colt foal is an own-brother to 2019 Group 1 winner Ghaiyyath and is also a half-brother to Group 1 winner Zhukova.
He will be offered by The Castlebridge Consignment as Lot 745 at the November Sale.
NOVEMBER SALE DATES 2019:
November Foal Sale Part 1:  18 – 20 November
November Breeding Stock Sale:  21 – 22 November
November Foal Sale Part 2:  22 November 
(immediately following the breeding stock)
Group 1 Glory For Orby Graduate Technician At Longchamp
This weekend saw Group 1 glory for Goffs Orby Sale graduate Technician at Longchamp as he landed the G1 Prix Royal Oak in great style under Pierre-Charles Boudot on Sunday for trainer Martyn Meade and owners Team Valor.

Longchamp has proven auspicious for Technician this season, as having achieved Listed success in the Prix Ridgway earlier this year he went on to take the G2 Qatar Prix Chaudenay on Arc weekend at the track just three weeks ago.

A son of Mastercraftsman, Technician was bred by Barronstown Stud who sold him at the 2017 Orby Sale to Dermot Farrington.
NEXT SALES:
November Foal Sale Part 1:  18 – 20 November 2019
November Breeding Stock Sale:  21 – 22 November 2019
November Foal Sale Part 2:  22 November 2019 (immediately following the breeding stock)
December NH Sale:  11 – 12 December 2019
fonte : Goffs