Despair as Enable gives way to Waldgeist and fabulous Fabre in memorable Arc
By Lewis Porteous
They cheered Enable leaving the parade ring, they cheered her leaving the stalls, they cheered her hitting the front and they even cheered her back to her stable, but when it mattered most there were no cheers.
Instead, there was a numbing silence as Waldgeist flashed past the winning post before Europe's darling to deny her a never-before-achieved third win in the Qatar Prix de l'Arc de Triomphe.
Nestled on the western edge of Paris's 16th arrondissement under the distant gaze of the Eiffel Tower, Longchamp has been the stunning backdrop to some remarkable Arcs but there was a unique atmosphere both before and after the race's 98th edition.
Fans arrived in their droves to witness Enable's quest for history but the winner of her last 12 races, including ten at Group 1 level and the previous two Arcs, uncharacteristically wilted in the final furlong to suffer the same fate as Treve, the only other dual Arc winner who tried for the hat-trick but ultimately failed in 2015.
On that occasion Frankie Dettori pooped the party aboard Golden Horn but the tables were dramatically turned four years on, as the Italian was left to suffer as Waldgeist showed a remarkable turn of foot to leave Enable in his wake.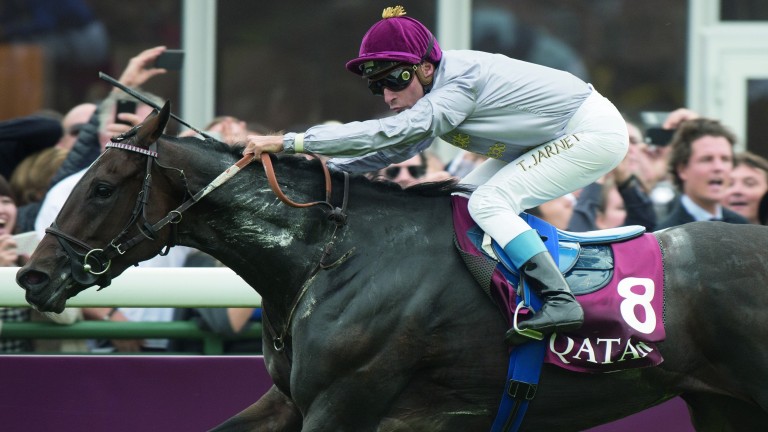 Treve, like Enable, failed in her bid for a hat-trick in the Arc
Edward Whitaker (racingpost.com/photos)
"I struggled in the first bit of the race and let her find her feet," said Dettori, dejected but in control of his emotions. "She came good for me in the false straight and I waited for the 300 (furlong and a half out) but I didn't find as much as I thought I'd left and I just folded a little bit. The winner was too good for me today."
The hallmark of Enable's remarkable career has been the way she sustains her winning burst but this time her kick appeared to peter out much earlier than usual, bringing back memories of last year's desperate finish when she just held on from Sea Of Class after a troubled preparation. On this occasion she could not hold on. 
"I passed the 200 and I was a spent force," added Dettori. "I think the ground had a lot to do with it."
While Enable's rider considered what might have been, her trainer John Gosden exited the scene sharply, although not before congratulating the winning connections. He later concurred that the rain-soaked ground had been a significant factor.  
"She's run a blinder and I'm thrilled with her performance," said Gosden. "We lost our most potent weapon, the turn of foot in the latter stage of the race but I'm very proud of her."
Rather than Enable, the history maker turned out to be winning trainer Andre Fabre, scoring a record eighth Arc win with a horse meeting Enable for the fourth time and beating her for the first. 
Fabre first won Europe's richest race 32 years ago with Trempolino in 1987, since then Subotica (1992), Carnegie (1994), Peintre Celebre (1997), Sagamix (1998), Hurricane Run (2005) and Rail Link (2006) have all crossed the line first for a trainer widely regarded as one of the greatest of his generation.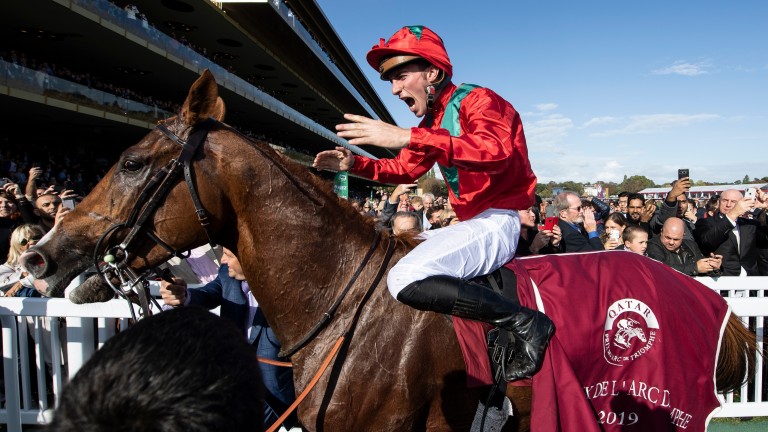 What it means to win the Arc: Pierre-Charles Boudot screams with delight after the victory of Waldgeist
Edward Whitaker (racingpost.com/photos)
Yet to beat Enable, with a horse who had trailed her home in last year's Arc, the Breeders' Cup Turf as well this year's King George, has to be one of his greatest achievements.
"I have so much admiration and respect for Enable that I'm proud Waldgeist could beat her," said the 73-year-old, securing his 30th trainers' title in France with this victory.   
Beaten 13 and a quarter lengths by Enable in America, Waldgeist finished just one and three-quarter lengths behind her at Longchamp 12 months ago.
However, it was at Ascot in July, after Waldgeist finished strongly to close to within two lengths of his old rival, that his trainer, and especially winning rider Pierre-Charles Boudot – scoring in the Arc for the first time – first thought an upset possible.
"He pleased me very much at Ascot and he's stronger and more mature," added Fabre. "I really thought he was eating the ground at Ascot and had an easy race, so it gave me some confidence.
"After Ascot Pierre-Charles said 'We're going to win the Arc' and was very confident as well. It's up to the handicapper to rate how good he is but it's very satisfying to win one of the biggest races in the world."
Fabre said the winner's future will be discussed with owners Gestut Ammerland and Newsells Park, with immediate retirement not out of the question.
The same applies to Enable, who may have failed in her bid for history but earned her place among the all-time greats some time ago.
"We'll get her back, see how she is and then contemplate on what has been a very special filly," said Teddy Grimthorpe, racing manager to Enable's owner Khalid Abdullah.
"I think Prince Khalid will want to take his time about what happens to her but there's no decision at the moment.
"The wave of goodwill and good wishes was unbelievable so it's not quite what we hoped but how can we complain? She's been an unbelievable filly and we love her to death."
fonte : RacingPost
PRIX DE L'ARC DE TRIOMPHE : WALDGEIST DÉFAIT ENABLE
LE 98E PRIX DE L'ARC DE TRIOMPHE S'ANNONÇAIT SOMPTUEUX AVEC LA PRÉSENCE DE LA CHAMPIONNE ENABLE. ECRASÉE D'ARGENT À 5/10, LA PARTENAIRE DE LANFRANCO DETTORI ÉCHOUE DANS SA TENTATIVE DE TRIPLÉ. WALDGEIST REMPORTE L'ÉDITION 2019

 Fiche Cheval: WALDGEIST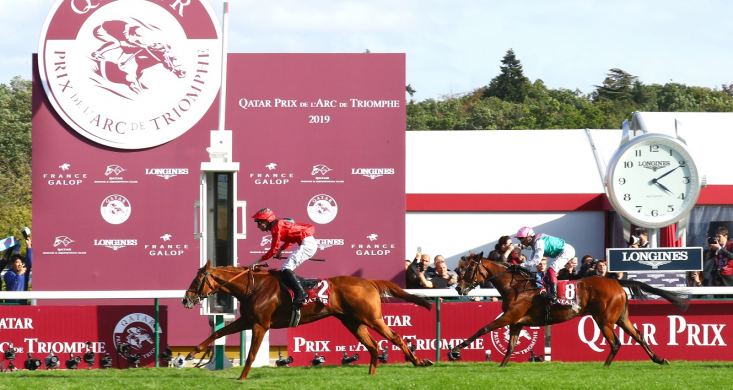 Un triplé qui reste inacessible, un 5 ans qui bat enfin celle qui l'avait toujours battu, un jockey qui a réussi le wwek-end de l'Arc de sa vie et l'entraîneur André Fabre, fidèle à lui-même qui améliore son record… quel Arc !
QATAR PRIX DE L'ARC DE TRIOMPHE :  WALDGEIST PREND SA REVANCHE DANS L'ARC ! 
Les 11 adversaires d'Enable avaient tous pour but de battre la championne Enable. Chacun avait son point fort pour mettre à mal la suprématie de la championne de John Gosden. Dans des travées pleines, la foule s'attendait un magnifique spectacle sur la piste. Ils n'ont pas été déçus ! Enable, qui n'a connu la défaite qu'à une seule reprise, c'était en avril 2017 sur la piste de Newbury, devait affronter 9 nouveaux rivaux. Avant le coup Magical et Waldgeist, battus respectivement quatre et trois fois par leur rivale avaient peu de chance de prendre une revanche. 
Mais les courses ne sont jamais jouées d'avance. Une nouvelle fois cela s'est démontré ce dimanche après-midi. Montée par un Lanfranco Dettori déjà lauréat de Groupe 1, la veille avec Anapurna dans le Prix de Royallieu, la meilleure jument du monde mettait sa double couronne en jeu. Les pluies tombées samedi et les douze courses précédentes ont rendu la piste de ParisLongchamp très souple (4.1) pour la version officielle et bien pénible penchant vers le collant pour la réalité du terrain comme le soulignait Mickael Barzalona en début de réunion. Auteur d'un coup de quatre, la veille, Pierre-Charles Boudot, voyait les pluies d'un mauvais oeil pour son compagnon de tous les jours, Waldgeist. Malgré tout, il avait confiance en sa monture et le fils de Galileo lui a bien rendu.  (fonte : Equidià)
http://www.ippica.biz/1/14_vid/video_go_01.asp?cor=G212353&data=20191006&T=G&tlx=1 (video da IppicaBiz)