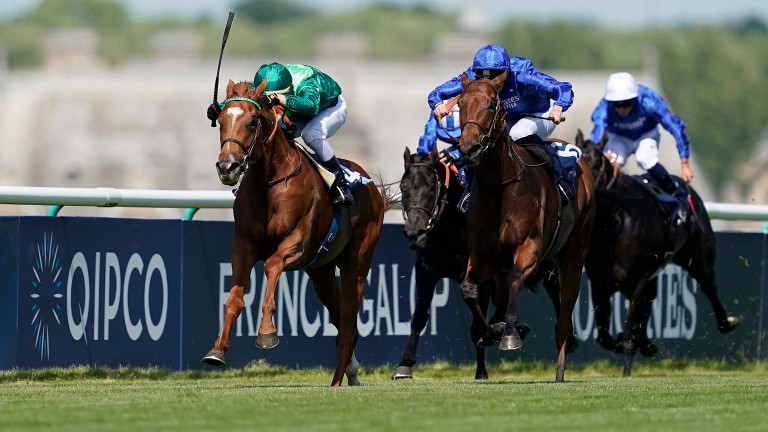 Sottsass produces an impressive display in the Prix du Jockey Club for Cristian Demuro and Jean-Claude Rouget
Alan Crowhurst
By Scott Burton, 
Jean-Claude Rouget proved himself to be a modern master for the Chantilly Classics once again as Sottsass flew home under supersub Cristian Demuro to defeat red-hot favourite Persian King in record-breaking time. 
Rouget missed the race after being taken ill earlier on a sweltering day, but was well enough to celebrate the victory from hospital, from which he is expected to be released on Monday.
The trainer was responsible for his fourth Qipco Prix du Jockey Club winner and a third in four years.
There were at least two ecstatic men on hand to lift the mood, namely winning owner Peter Brandt and Demuro, who only came in for the ride during the week when Christophe Soumillon was claimed for Zarkallani, and who was adding to his previous success in the race two years ago aboard the Rouget-trained Brametot.
"It's very emotional to have won one [Jockey Club] and so a second, which to tell the truth wasn't expected, is wonderful," said Demuro. "I was down to ride another horse but then His Highness the Aga Khan decided to run his horse and Jean-Claude Rouget once again showed faith in me. Really it's a dream."
Described by Rouget's long-serving assistant Jean-Bernard Roth as "a divine jockey," Demuro was able to save valuable ground on the rail before finding a deluxe tow into the race on straightening up.
"Without really trying I found myself directly behind Persian King and he took me into the race with his acceleration," said Demuro. "I knew he was the horse to beat and once I was past him it was easy."
Asked about his blossoming association with Rouget, Demuro said: "More and more it feels like family to me and I think that's my fifth Group 1 for Jean-Claude. I feel very lucky to get the call on a horse like him."
For Brandt, it was a case of keeping it in the family, since Sottsass – whose previous win came on very soft ground but which crucially gave him experience of Chantilly's Piste du Jockey Club – was purchased at Arqana in the wake of his half sister, Breeders' Cup heroine Sistercharlie, flying the flag for the owner's White Birch Farm. 
"His sister was in the Prix de Diane and got into a lot of trouble when she was beaten," said Brandt. "She hasn't been beaten many times since. I was glad to be here that that and this is just a great great moment. It's one of the the greatest days I've had and that includes the Breeders' Cup."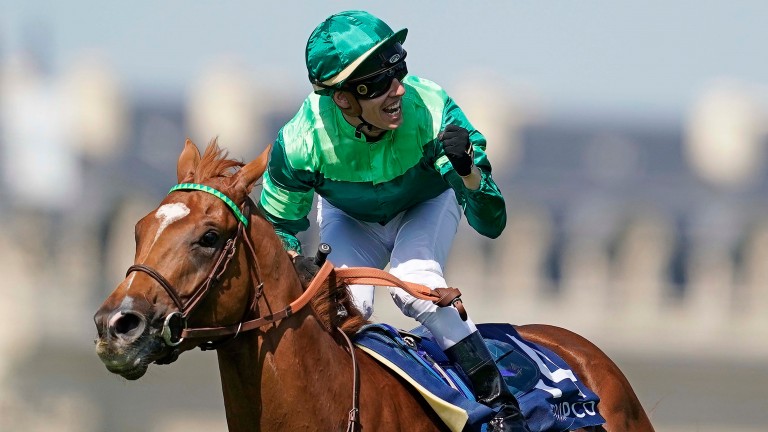 CHANTILLY, FRANCE – JUNE 02: Cristian Demuro riding Sottsass (green) win The Qipco Prix Du Jockey Club during The Qipco Prix du Jockey Club meeting at Hippodrome de Chantilly on June 02, 2019 in Chantilly, France. (Photo by Alan Crowhurst/Getty Images)
Alan Crowhurst
While it will be a recuperating Rouget that plots a course for Sottsass, Brandt confirmed that his French Derby winner would be staying here in Europe in preference to a transfer to Chad Brown's barn in the US.
Paddy Power gave Sottsass an introductory quote of 16-1 for the Qatar Prix de l'Arc de Triomphe, and Brandt was in no mood to talk his trainer out of that as a potential end-of-year target.
"I can tell you that the Arc is one of the races I most want to win," said Brandt. "My first time at the Arc was nearly 50 years ago with Ivanjica and I've spent a lot of time dreaming about having an Arc horse."
Pierre-Charles Boudot was obliged to burn plenty of petrol from his wide draw aboard Persian King but still looked to be full of running two out as he came to tackle leader Motamarris before watching Sottsass breeze past him.
"I come back to my first thought which is that he didn't stay," said Andre Fabre. "He was travelling well with two furlongs to go and then got tired at the end. He was beaten by a top-class horse."
Fabre indicated that the Prix Jacques le Marois at Deauville might be next for Persian King. 
Freddy Head was delighted with the performance of the inexperienced Motamarris, who helped cut out the pace and stayed on well for third, holding off Cape Of Good Hope and Ryan Moore.
Head said: "I wasn't sure he'd have the pace for a Jockey Club and what he's done today is quite something, because I think he'll get a mile and a half. We've seen a very good edition today."
Aidan O'Brien said of Cape Of Good Hope: "Ryan's horse ran a lovely race and we think he'll come forward a bit more. His brother [Highland Reel] was second in this race and afterwards he started to progress, so hopefully he will too."
Qatar Prix du Jockey Club result
fonte : RacingPost
ARRIVÉE DU QIPCO PRIX DU JOCKEY CLUB : SOTTSASS RIME AVEC CLASSE !
SUR UN TERRAIN BON RAPIDE, SOUS UN FRANC SOLEIL, L'ÉDITION 2019 DU QIPCO PRIX DU JOCKEY CLUB REVIENT DANS UN TEMPS CANON AU BEL ALEZAN SOTTSASS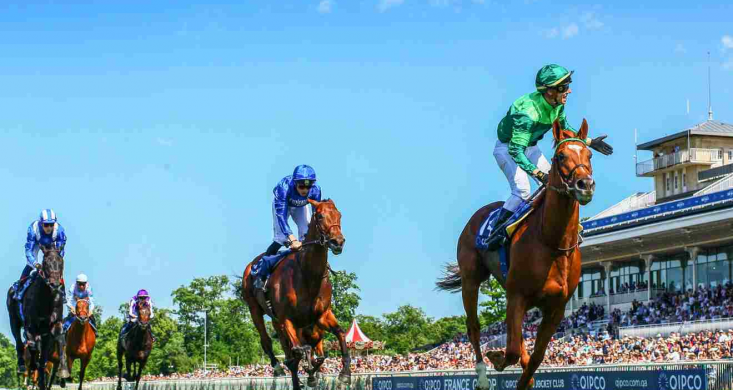 R1C5 – QIPCO PRIX DU JOCKEY CLUB – GROUPE I – 2100 MÈTRES – 2'02''90 LE NOUVEAU RECORD DE L'ÉPREUVE  POUR SOTTSASS 
A l'arrivée du Qipco Prix du Jockey Club édition 2019, Sottsass signe une longue et belle accélération pour dominer Persian King, le grandissime favori. En parcourant les 2100 mètres dans le chrono de 2'02''90, Sottsass réalise le meilleur temps de la course et du parcours. Il pulvérise le record précédent celui de The Grey Gatsby, qui en 2014 avait remporté ce Prix Jockey Club en 2'05″58. Certes, le terrain est extrêmement ''roulant'' ce dimanche à Chantilly mais ce nouveau record en dit long sur les capacités du lauréat que son entraîneur Jean-Claude Rouget estime meilleur en terrain lourd.
Persian King (André Fabre/Pierre-Charles Boudot), le grand favori est un bon second. Ce grand cheval, puissant est contraint de galoper à l'extérieur (numéro 14 sur 15 dans les boites de départ) et lorsqu'il se rapproche à la distance, il ramène son tombeur sur un plateau. Persian King termine à deux longueurs du gagnant et deux longueurs devant Motamarris (Frédéric Head/Aurélien Lemaitre), l'un des animateurs de l'épreuve. Cape Of Good Hope (Aidan Patrick O'Brien/Ryan Moore) est le premier poulain étranger à l'arrivée de ce Quinté de luxe. Roman Candle (André Fabre/ Mickaël Barzalona) termine en avançant côté corde et prive Rockemperor (Simone Brogi/Ioritz Mendizabal) de la cinquième place.
Arrivée : 14 – 6 – 2 – 9 – 5
LE POULAIN LAURÉAT
Sottsass est né de l'union du top sprinter et top étalon Siyouni et Starlet's Sister. Sa mère Starlet's Sister, qui est par l'exceptionnel Galileo, compte cinq produits dont trois ont couru et deux sont gagnants de Groupes I. Sistercharlie, la grande sœur du champion du jour était deuxième du Prix de Diane de Senga en 2017 et deux fois lauréate de Groupe I outre atlantique depuis. Sottsass provient de l'élevage de l'écurie des Monceaux où il est né le 24 mars 2016.
Sottsass compte maintenant cinq courses pour trois victoires dont deux à Chantilly car il venait de remporter le Prix de Suresnes sur 2000 mètres… comme Vision d'Etat lauréat du Jockey Club 2008.
LE PROPRIÉTAIRE
L'américain Peter Brant, propriétaire qui apparait sur les programmes sous le nom de White Birch Farm, est né et vit à New York, là où il allait aux courses jeune. Il a fait fortune dans l'industrie, en commercialisant du papier crépon et du liège notamment. Peter Brant est surtout connu comme producteur et également comme collectionneur d'art.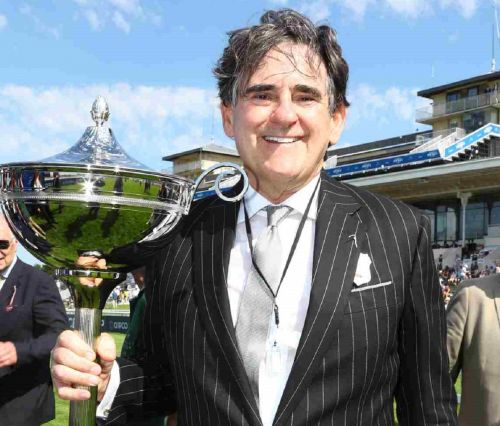 "Les chevaux t'apprennent à être humble. Tous les jours. C'est un jeu très difficile à jouer. Personne n'est capable de jamais maîtriser sa propre chance. C'est le côté romantique des courses ou de l'élevage de chevaux. C'est ce qui le rend formidable."
LE JOCKEY
Jockey italien âgé de 26 ans, deux fois cravache d'or en Italie, Cristian Demuro connaît une belle réussite depuis qu'il s'est installé en France en 2014. Le premier jockey de Gérard Augustin-Normand n'avait pas de monte sous contrat dans le Derby français et s'est retrouvé libre pour suppléer Christophe Soumillon sur Sottsass. Cette victoire, son deuxième Jockey Club après celui de Brametot en 2017, met encore en lumière son association avec l'entraîneur Jean-Claude Rouget. Le duo est notamment au palmarès du Jockey Club (Sottsass, Brametot), du Prix de Diane (La Cressonnière en 2016) de La Poule d'Essai des Pouliches (La Cressonnière en 2016) ou encore La Poule d'Essai des Poulains (Brametot 2017/Olmedo 2018)…
L'ENTRAÎNEUR
Jean-Claude Rouget qui est le détenteur de victoires d'un entraîneur en plat en France, 242 réussites en 1994, signe ici son quatrièmeJockey Club après Le Havre en 2009, Almanzor en 2016, Brametot en 2017 et Sottsass cette année. Absent ce dimanche pour raison médicale, Jean-Claude Rouget estime depuis toujours ce beau poulain et le pense capable de faire mieux en terrain lourd… Et quand son jockey affirme que la distance de 2400 mètres ne posera pas problème au poulain, tous les rêves sont permis pour la Qatar Prix de l'Arc de Triomphe. (fonte Equidià)