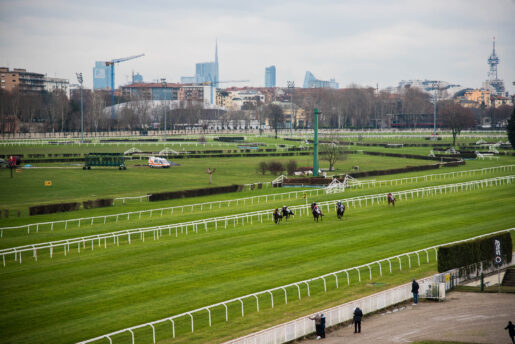 Sabato 1° giugno con il convegno di corse impreziosito dai debuttanti al maschile e al femminile. Inizio programma dalle ore 15:25 – ingresso gratuito – (Snaitech)
SABATO DEI DEBUTTANTI ALL'IPPODROMO SNAI SAN SIRO. INIZIO CORSE DALLE ORE 15:25
Appuntamento del sabato all'Ippodromo Snai San Siro che parte dalle ore 15:25 ed è impreziosito dalle prove per i debuttanti di 2 anni sui 1.400 metri, sempre molto attese dagli appassionati. Inizio con il Premio Mimma Werner dedicato ai giovanissimi e alla divisione al femminile, in cui si dovranno seguire i movimenti delle scommesse e si dovrà valutare il tondino nell'attesa di preziosissimi suggerimenti. Noi proviamo ad indicare MERA DI BREME, dal pedigree interessante e proveniente da un training che debutta con i propri puledri solo quando li ritiene pronti. Rose Secret sarà tra le più gettonate, e va menzionata anche Sa Paradura.
Alla seconda prova, Premio Giorgio Macchi, tocca alle amazzoni e ai cavalieri per il tradizionale handicap sui 1.400 metri in dirittura intitolato a Giorgio Macchi, grandissimo ed appassionatissimo gentleman rider. Carta alla mano non si può andare contro il vecchio GEORGE ROOKE, affidabilissimo, in forma impeccabile, con feeling comprovato con il suo interprete e perfettamente a suo agio sul percorso. Dovrà stare molto attento a Viscount Loftus, che ha corso meglio di quanto non dicano i risultati, senza sottovalutare il terzetto formato da Third Strike, Dream Spirit e Tanveer, che arrivano tutti da piazzamenti incoraggianti.
Si resta sempre in dirittura, ma si accorcia di un furlong, per il Premio Mairaun handicap di buona categoria per i velocisti di 3 anni. Bel contesto, con nomination per VABOBOS, parso in netta ripresa e certamente in grado di sostenere il top weight contro questi avversari. Il compagno di allenamento Sopran Willow ha deluso l'ultima volta, ma sulle precedenti conterebbe, anche se paiono più minacciosi due elementi come Atacama ed Enigma Code che arrivano da maiden corse molto bene, e senza dimenticare Thesan, che alza giustamente il tiro sfruttando la forma solida del periodo. C'è anche la velenosa Fast Lane, che torna su distanza più congeniale.
A metà convegno si torna alla generazione più giovane, per la divisione al maschile della prova per i debuttanti sui 1.400 metri di pista media, valido come Premio Enrico Baragiola. Ovviamente valgono le stesse indicazioni date per le femmine, massima attenzione ai movimenti del mercato e approfondito monitoraggio al tondino, con il voto della vigilia che premia PIRELLONE, che ha tutta la carta in regola per essere un prospetto capace di vincere subito. Molto interessanti anche le genealogie di Elaire Noire e Way To Epsom, con Multiple Choice e Aurelius In Love subito a ruota.
Nella seconda parte del pomeriggio milanese di galoppo sono in programma un paio di handicap di categoria ordinaria per i 3 anni, il primo dei quali è sul doppio chilometro di pista circolare per il Premio Cassinetta. È una sorta di rivincita di una corsa analoga di una decina di giorni fa, con DOLCEDO che andò a segno battendo Fortuna e Amica Mia, più qualcun altro degli avversari odierni a margini più netti; i pesi diversi e una soluzione tattica verosimilmente diversa potrebbero mischiare le carte in tavola, ma l'autorevolezza del vincitore, alimenta le possibilità di pronta replica. Il tutto senza dimenticare Coriano, che abbassa ulteriormente il tiro.
L'altro handicap, Premio Arluno, che chiude il sabato all'Ippodromo Snai San Siro, è per i 3 anni di pari categoria del precedente, ma accorciato sul miglio della pista circolare. Bovaglie e Texas Cactus si sono ben comportate nella loro comune ultima apparizione a questo livello, con Daisy Due più dietro ma attesa ora in progresso, ma paiono più rilevanti le chance di BLUE MAYSON, che torna nella categoria in cui ha colto un primo e secondo in due ingaggi, e con peso non terribile cui fare fronte. Le Soupirant dal canto suo non ha mantenuto le promesse del Gardenghi, ma qui si declassa ulteriormente.
ippodromo-snai-san-siro-milano-galoppo-programma-corse-sabato-1-giugno-2019
fonte : ippodromisnai.it
DERBY DREAM (EPSOM 2019) LIVES ON AT KIRTLINGTON PARK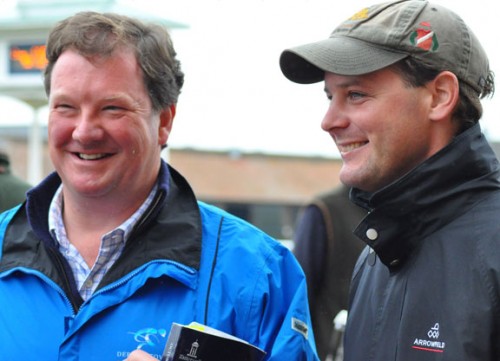 By Emma Berry
Starting any new business venture comes with a fair amount of stress but when that business is a stud farm on land which has already produced two Derby winners, it seems fair to assume it will be one launched on a sound footing. In the infancy of his operation, Charlie Budgett, 37, combined bloodstock agent duties with stud farming, but as he hassteadily increased the number of mares under his care, he has devoted the last three years to developing Kirtlington Park Stud on land which has been in his family for almost a century, since his great-grandfather Hugh Budgett bought Kirtlington Park.
http://www.thoroughbreddailynews.com/pdf/tdn/tdn190530e.pdf.
The weekend's racing gets underway at Busan on Friday with 9 races from 11:30 to 18:00. With two big Stakes races at Seoul on Sunday in the shape of the SBS Sports Sprint and the Ttukseom Cup, lots of jockeys are missing from Busan this weekend so Seo Seung-un looks set to be the man to follow down South on both Friday and Sunday:
Race 1: Class 6 (1000M) Allowance / KRW 24 Million
Tricky maiden for three-year-olds to kick things off with. (3) GIJEOGUI JILJU weakened late on debut over 1300M just two weeks ago. She returns quickly here and dropped back in trip should go much better today. (11) WONDERFUL TALE raced twice last autumn showing promise with a 4th and a 3rd. She came through a trial in good order at the beginning of this month and should go well first-up here. (12) STOLEN BEAUTY was an improved 4th on her second outing at this trip three weeks ago and can continue to make progress today. There are four first-time starters and a couple look to have potential. (4) USEUNGUI PARANGSAE and (9) MISS UP both went well in trials and are likely to have backers here – watch the market for clues with both.
| | |
| --- | --- |
| Selections | (3) Gijeogui Jilju (11) Wonderful Tale (12) Stolen Beauty (9) Miss Up |
| Next Best | 4, 8 |
| Fast Start | 4, 9, 12 |
Race 2: Class 6 (1300M) Allowance / KRW 24 Million
More three-year-old maidens. (9) ETERNAL TRON has had a stop start career so far but is to outings into his current campaign and comes in having run a good 2nd over a mile at the beginning of this month. Back down in tip today, he's likely to be on pace early and looks ready to make his breakthrough. (3) TWO TWO WAY has been inconsistent across her seven attempts so far but comes in off a useful 3rd place over 1000M three weeks ago and can continue to make progress here while (5) TRUE SIGNATURE was an improved 3rd at this trip on April 26th and can go well again. (8) SPICE ROCK has been well supported in the market in all five of her races so far. She's yet to go any better than 3rd but should be at least matching that here. (11) RAON FLYING did nothing much wrong on debut on May 3rd and is another in at least the placing hunt.
| | |
| --- | --- |
| Selections | (9) Eternal Tron (8) Spice Rock (3) Two Two Way (5) True Signature |
| Next Best | 11, 12 |
| Fast Start | 3, 9 |
Race 3: Class 6 (1300M) Allowance / KRW 40 Million
Yet more three-year-old maidens. (5) ROYAL SOLDIER did well on debut in early April, finishing 4th and running through the line well over 1000M. He steps up in trip today following eight weeks off and it could well suit. (6) MILLION BEAT also returns for the first time since the start of April. She ran an improved 3rd that day and has since been back to trial, coming through that well two weeks ago. She's up in trip for the first time and has a chance. (9) GRAND YEONGUNG comes in off the back of two solid performances at 1000M and steps back up to this trip with cause for confidence. (1) TOHAM STAR, a good 4th on debut a month ago, and (10) PERDIDO ROCKET, are others in the hunt.
| | |
| --- | --- |
| Selections | (5) Royal Soldier (6) Million Beat (9) Grand Yeongung (1) Toham Star |
| Next Best | 10, 8 |
| Fast Start | 2, 6 |
Race 4: Class 4 (1300M) Handicap / KRW 60 Million
A winner of two from five so far, (10) BROWN PIE is up in class after a good win on her first try at this distance at the beginning of this month. She looks to have plenty of potential for more improvement and can win again here. (7) OCEAN PHOENIX has raced at this class five times and has only once finished outside the top three. Seo Seung-un rides her for the first time and she should be close again. (11) K PLUS WON is better than recent results suggest with them having been in tough company. Things looks more amenable today and he can improve. (2) STAR LINE Is another who can be competitive in this company while the wildcard is (12) SUPER GOLD. He returns to action for the first time since January and looked sharp in a trial at the end of last month.
| | |
| --- | --- |
| Selections | (10) Brown Pie (7) Ocean Phoenix (11) K Plus Won (12) Super Gold |
| Next Best | 2, 6 |
| Fast Start | 3, 5, 7, 9 |
Race 5: Class 6 (1600M) Allowance / KRW 24 Million
Back to maidens here and a small field going over a mile. (7) EL DRAGON was 3rd at this distance on her return from almost six months off four weeks ago. She already has a runner-up finish at this distance and is favoured to make her breakthrough here.  (5) DAEHEUNG SIDAE has been slowly figuring things out and his 3rd place last start suggests he's finally starting to get it. He steps up to the mile for the first time and it may well suit. (4) TWO TWO HAMMER ran well for a class and distance 3rd last start three weeks ago and should be aiming to at least match that here. (1) DOCTOR MIMI and (3) BAENGNYEON JIJON are others with potential to improve.
| | |
| --- | --- |
| Selections | (7) El Dragon (5) Daeheung Sidae (4) Two Two Hammer (1) Doctor Mimi |
| Next Best | 3, 2 |
| Fast Start | 4, 5 |
Race 6: Class 5 (1600M) Allowance / KRW 40 Million
(8) MAGIC FLYING has raced well in three attempts at this class since getting his maiden win in February. His latest two tries have been at this distance ending in 3rd and 4th and he looks the one to beat here. (10) BOBAE DREAM also comes in looking in good shape and while a previous attempt at this distance didn't go well, she looks like being one of…  Read more of this post