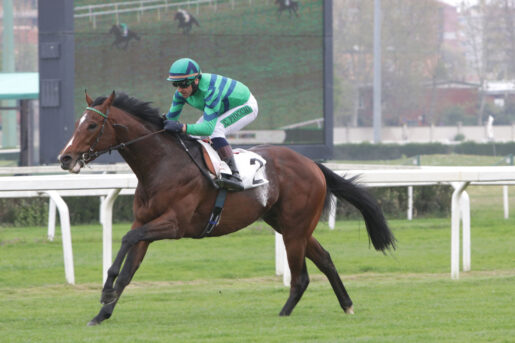 Mission Boy risolve in bello stile il Gardone (Foto Dena – Snaitech)
Risultati Milano Galoppo sabato 6 aprile 2019:  MISSION BOY CON STILE, VERDE E ROSA IN CRESCITA
Il rientro di Mission Boy era il leit-motiv di questa edizione del Premio Gardone, la Listed sui 1600 metri in pista grande per maschi e castroni di tre anni, e più in generale di tutto il pomeriggio milanese: ben presentato in questa prima uscita dalla vittoria nel Gran Criterium Gr. 2 del 21 ottobre, il portacolori della Blueberry ha superato brillantemente anche l'esame della pista centrando la quinta vittoria in altrettante uscite: dopo qualche piccola divagazione durante il percorso, in retta Mission Boy (che rendeva tre chili e mezzo ai rivali) si è presentato in maniera molto comoda su Zoman, che era passato in vantaggio ai 400 finali, e appena richiesto dal suo interprete Carlo Fiocchi è passato facilmente nell'ultimo furlong. Il ruolo di capofila della generazione ne esce ulteriormente rafforzato, e adesso si può puntare con la massima fiducia al Parioli. Si è ben comportato anche Zoman, ultimo ad arrendersi alla superiorità del rivale, mentre Siculi dall'ultima posizione ha guadagnato lungo lo steccato risalendo al terzo posto, seppure a lunghezze dai primi.
L'altra Listed del pomeriggio era il Premio Seregno, sempre sui 1600 metri di pista grande, riservata alle femmine di 3 anni naturalmente con vista sul prossimo Regina Elena: la linea della maiden del 20 marzo si è confermata estremamente valida, ma i valori sono stati ribaltati e Verde e Rosa si è presa una netta rivincita su Stone Tornado: con Fabio Branca (al secondo centro del pomeriggio) in sella, la portacolori della scuderia Incolinx si è limitata a scortare la rivale fino ai 400 finali, poi quando si è accesa la bagarre ha fatto valere chiaramente le sue ragioni mostrando un sensibile progresso rispetto alla precedente uscita, a tutto merito del lavoro svolto dal suo preparatore Nicolo' Simondi. Stone Tornado ha agito in testa come già aveva fatto nel vittorioso debutto ma stavolta si è dovuta inchinare alla coetanea. Dietro alle due hanno agito sin al via Lampoflex e Lamaire che si sono disputate il terzo posto, andato alla portacolori della Dormello Olgiata che però non è riuscita ad inserirsi nel discorso vittoria.
Fresco della prima vittoria della carriera (ottenuta appena domenica scorsa a Capannelle), Land of Giant si è prontamente confermato nel Premio Dolzago, l'handicap sui 2000 metri in pista media per cavalli di tre anni: terzo dal via, sempre in controllo della situazione, il portacolori della scuderia Dioscuri, oggi con Dario Vargiu in sella, non ha avuto difficoltà nell'ultimo furlong ad imporre la legge del più forte su Sopran Dante che aveva provato vanamente ad anticiparne le mosse portandosi ai lati del battistrada Like Nowhere Else a inizio dirittura: il cavallo del team Gonnelli ha difeso il piazzamento dal recupero a centro pista di Lodai, mentre Like Nowhere Else ha concluso al quarto.
Il Premio Germignaga, la condizionata per femmine di 4 anni e oltre, ha visto il ritorno al successo de La Base: con Fabio Branca in sella, la portacolori del signor Gaetano Ledda è stata autrice di una bella progressione a centro pista con cui ha regolato Key Master, che era passata ai 400 finali, e Great Aventura, che ha qualcosa da recriminare perché la vincitrice una volta passata si è appoggiata verso l'interno e così facendo ne ha ostacolato l'azione, non certamente in ottica vittoria ma nella lotta per il secondo posto con Key Master. La giuria dopo inchiesta ha convalidato l'ordine di arrivo. La tedesca Lady Magic ha corso da leader ma è calata in retta, così come Trixibelle che l'aveva pedinata dal via.
A 7 anni suonati, Pensierieparole è ancora un fior di velocista e in particolare a San Siro sa regalare grandi emozioni, lo ha fatto per l'ennesima volta nel Premio Oleggio, la condizionata sui 1000 metri per cavalli anziani: toltasi un pò di ruggine nella prova di rientro del 17 marzo, il cavallo allenato da Bruno Grizzetti con il fido Silvano Mulas in sella ha piazzato una stoccata micidiale nell'ultimo furlong con cui non ha lasciato scampo alla pur valida Buonasera, animatrice sin dalle fasi iniziali insieme a Zan O'Bowney, You Better Run e Intense Life, poi calati. Al terzo posto è emerso l'attendista Zapel, mentre è finito fortissimo al quarto posto Swallow Street, evidentemente su una distanza troppo breve per le sue caratteristiche.
Cavalieri e amazzoni protagonisti nel Premio Degli Amatori, sui 1400 metri in pista dritta: nonostante il percorso inedito, Cape Baba è riuscito a spuntarla su Dress Drive, che invece del tracciato è un comprovato specialista: forse proprio per questo Antonio Ferramosca in sella al vincitore ha preso come punto di riferimento il rivale montato da Samuel Longo, e i due hanno dato vita ad un vibrante testa a testa nei 300 finali risolto di misura dal toscano, mentre più indietro George Rooke ha battuto Gaval, leader iniziale, per il terzo posto.
Nel Premio delle Scuderie, handicap sui 1600 metri in pista media per cavalli di 3 anni, un tonico Royal Gunner, con Claudio Colombi in sella, ha saputo piegare di forza Stay Strong, che si era profilato in vantaggio ai 400 finali superando il battistrada Rock of Paloma. Prima vittoria in erba per il cavallo allenato da Michelino Bebbu, che in precedenza aveva firmato due successi sulla sabbia a Varese ma che non era affatto dispiaciuto nel Calvairate. Rock of Paloma ha conservato il terzo posto. (fonte : Ippodromimilano.it)
P.A
N°
CAVALLO
FANTINO
TEMPO/DIST
1
2
MISSION BOY
C. FIOCCHI
1.38.0
2
5
ZOMAN
S. MULAS
3 lung. e 1/4
3
4
SICULI
GAB. CANNARELLA
5 lung.
4
1
FAULETTE
I. ROSSI
3 lung.
5
3
PAINFUL
D. VARGIU
lontano
 
 
P.A
N°
CAVALLO
FANTINO
TEMPO/DIST
1
6
VERDE E ROSA
F. BRANCA
1.39.1
2
5
STONE TORNADO
D. VARGIU
1 lung. e mezza
3
2
LAMAIRE
S. MULAS
1 lung. e mezza
4
3
LAMPOFLEX
D. DI TOCCO
incollatura
5
4
SPIETATA
S. URRU
1 lung. e 1/4
6
1
EXCEED LOOSE
C. FIOCCHI
10 lung.
 
 
fonte : Ippica Biz
Ippodromo del Mediterraneo, Siracusa Galoppo Risultati. Si confermano Coach Me Softly e Repton. Vola sul bagnato anche Ormixa
Arrivano importanti conferme nelle due condizionate divise per età, che hanno reso intrigante il convegno di galoppo all'Ippodromo del Mediterraneo di Siracusa che, tra l'altro, ha ospitato a chiusura anche la Tris Quarte Quinte. E' ritornato trionfatore Coach Me Softly, lontano dalle piste dal successo in Handicap Principale di metà Gennaio. Non ha temuto rientro, terreno appesantito dalle piogge, né i 61 chilogrammi in perizia e, con in regia Antonino Cannella, in piena spinta ha risolto il Premio La Figlia di Jorio, condizionata appunto che ha ingaggiato i 3 anni sui 1700 metri della pista grande. Ci ha provato Sopran Furia, ma è bastato per agguantare la migliore piazza. Soddisfacente il rientro di Principe Azzurro, buon terzo. Chiamato a replicare la brillante affermazione del debutto sul tracciato, Repton non ha deluso le attese. Passato in vantaggio, ai 150 metri dalla meta, diretto da Giuseppe Cannarella si è volato sul traguardo non lasciando scampo agli inseguitori. Ha dovuto accomodarsi, cosi, ancora sul secondo gradino del podio Sun Devil. A concludere la terna dell'altra condizionata che ha impegnato, invece, cavalli anziani sui 1500 metri della pista grande, ci ha pensato Domestic Hearth. Come da pronostico Ormixa non ha avuto avversari nel Premio Belmino, abbinato alla Tqq che ha chiuso il convegno. Facile al bersaglio, su superficie molto gradita, Federico Bossa ha concesso al rimontante Take a Nap solo il posto d'onore. Mentre per la terza moneta, e' tornata sul podio Sea Chanter, divisi da una foto stretta Graveler e Zigant vanno a chiudere il Quarte Quinte.
Siracusa, 6 Aprile 2019
The 2019 Korean Triple Crown gets underway at Busan on Sunday when sixteen three-year-olds go to post for the KRA Cup Mile. Since the race gained its status as the opening leg of the Classic series in 2008, favourites have won five of the eleven running but this year, identifying who the favourite will be could be as taxing as finding the winner in what looks like a hugely competitive contest.
Champion juvenile, the unbeaten King Socks, doesn't race. In fact, he hasn't stepped on to the racetrack since winning the Breeders' Cup last December. He has two stablemates going though in the shape of Precede and Glitter and both will be among the top line of favourites. Busan's Classic trial winner Yeonggwangui Secret is absent too, having pulled up lame after that race. However, Seoul's trial winner Dae Wan Ma is present along with a host of very promising up and comers.
There is foreign interest too. Bart Rice saddles Good Dancer while Franco Da Silva rides leading contender Doctor Thunder. Francois Herholdt gets the leg-up on Gabo Day while Antonio Da Silva, who rode Dae Wan Ma to victory in the Sports Seoul, retains the mount. Also coming down from Seoul is Alan Munro, who on Friday added Busan to the list of tracks he's ridden a winner at. He'll ride Gaon Force, who was 3rd in the Sports Seoul.
Here's the horse-by-horse guide:
HANEULEUL DALRIDA – Won well in a good time over 1700M last start in February. It was at class 5 though so this is a considerable step up and he carries more weight. Has run best from the front and will try and lead.
YEONGSEONGFIGHTING – Beaten by promising filly Nakita on debut and has won both starts since at 1300M and 1600M. Made all last time at this distance, has a top jockey on and while not among the favourites, not totally without a chance.
GABO DAY – Won three in a row at 1300M but only managed 7th when well supported in Gyeongnam Sinmun having been difficult to load. Distance a question at this stage but trialled well last week.
GAON FORCE – Class 5 winner at 1700M in February though we can probably draw a line through his superfast 4th over the same distance in March on a soaking wet track. Close at hand 3rd in the Sports Seoul and jockey a plus. Front-runner. Not impossible.
JOY OF LUCK – Unexposed in terms of distance and weight. 2nd over 1200M at class 4 last time. Front runner so will be looking for a fast start. Won't be among favourites although Jockey has won this race twice.
LION SUN – 3rd in the Gimhae Mayor's Cup in October and beat the promising Seobu Cat last start at 1000M. Distance a real question at this stage though. Likely to be on pace.
PRECEDE – A very good class 4 winner at this distance on March 1st, his second score at a mile. Big race jockey on and has proven versatile in winning both from the front and from behind though likely to let others go forward here. Big chance and possible favourite.
GLITTER – Avoided both Breeders' Cup and Gyeongnam Shinmun but is one of the furthest along with a class 4 win at a mile and 3rd place over 1800M at class 3. From the top stable and has to be taken seriously. Stablemate of Precede. Will settle just off the pace
GOOD DANCER – Strong run for 3rd in the Gyeongnam Sinmun where he showed some resilience to fight back after being headed. Well back behind Doctor Thunder at this distance in February but looks to have progressed since. Interesting outsider.
GLOBAL CHUKJE – A winner of four from five and 3rd in the other, he's the only class 3 winner in the field having struck at that level over 1700M on March 2nd. Big chance to take this race for Seoul. Settles midfield.
YEONGGWANGUI FIGHT – Well back in the Breeders' Cup and 5th in the Gyeongnam Shinmun but style may suit this extended trip. Nevertheless, plenty to find if he is to overturn the form.
MYEONGPUM CHUKJE – Finished 4th in the Sports Seoul, three-lengths behind the winner but previously won very well over 1700M at class 4. Distance today should suit and although he may need even further, he is a contender.
DAE WAN MA – Runner-up in the Breeders' Cup, she had a hard time at 1700M in January but won a hard-fought Sports Seoul last month at 1400M. Distance and draw are questions marks, but she has a real chance.
DOCTOR THUNDER – Since finishing 3rd on debut, he's won four in a row including last start at a mile. Drawn wide but doesn't need to lead. In form jockey and if he gets a nice spot after the break, could well be the one to beat.
YEONGSEONG ACE – Class 4 winner over 1300M last start but will have to find plenty here. Came from well off the pace that day so likely to go back here and try and mop up the pieces late on.
WONDERFUL FLY – Just beaten a head in the Sports Seoul Cup in what was his first race since last July and his first defeat. Unexposed and a wildcard. Widest draw not ideal but he ran on well last time and could be a player.
VERDICT: It's a great looking race with a full field and any number of winners. The Kim Young Kwan pair of (7) PRECEDE and (8) GLITTER look formidable but there are enough doubts about both to make it possible to elsewhere. We'll go with (14) DOCTOR THUNDER to come through with a late run to score under Franco Da Silva though. Expect very solid runs too from the Seoul challengers (10) GLOBAL CHUKJE, (12) MYEONGPUM CHUKJE and (4) GAON FORCE.
Selections: (14) Doctor Thunder (7) Precede (10) GLobal Chukje (12) Myeongpum Chukje
Next Best: 4, 8, 13, 16, 9
Fast Start: 1, 4, 5, 6
Closers: 11, 14, 15
LEOPARDSTOWN OFFERS FIRST CLASSIC CLUES
"He has been to Naas and we've our own grass gallop ourselves, so he has done plenty. We've had no hold-ups with him and everything is good. We're looking forward to getting him started and then we'll know where we are going"….  http://www.thoroughbreddailynews.com/pdf/tdn/tdn190406e.pdf.  06/04/2019.  
THE GRAND NATIONAL HISTORY MAKER
Tiger Roll follows Red Rum's lead to claim his place among the immortals
By Lee Mottershead, 
His place in racing history had long since been assured. Now the hearts and minds of all who love this sport will forever hold dear the tiny miracle that is Tiger Roll, after he followed in the hoofprints of a legend to claim Grand National glory for the second consecutive year.
Not since Red Rum triumphed at Aintree for the second of three times in 1974 had a horse conquered this most iconic test of equine endeavour more than once.
Through his exploits Red Rum became a household name, his performances on this Liverpool turf as vivid now as all those decades ago. Now, at long last, we have a worthy successor.
Like dear Rummy, Tiger Roll is small in stature but huge in all other regards.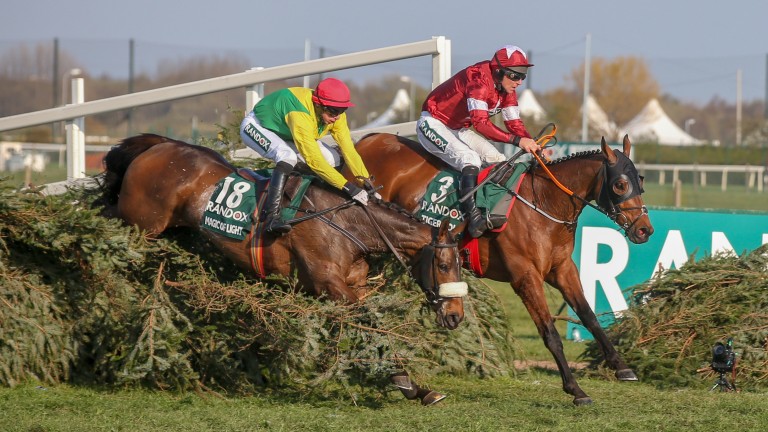 Tiger Roll and Davy Russell lead from runner-up Magic Of Light
John Grossick (racingpost.com/photos) 
His relish for this race was every bit as evident as it had been 12 months ago, when he so nearly forfeited a long lead to hold on by a head. This time there was no such drama.
The road to immortality lasted just over four and a quarter miles and ended with Tiger Roll achieving what for so many of his predecessors had been mission impossible. Under a blue sky, and with the world watching, he sprinted to superstardom under a magnificent Davy Russell, two and three-quarter lengths clear of Magic Of Light, the only mare in the 40-runner field.
Scenes of euphoria broke out all around this most special part of Merseyside as 70,000 people realised they had been present for a special moment. Among that happy throng there were none more ecstatic than Tiger Roll's adoring trainer Gordon Elliott, who looked close to spontaneously combusting with joy from the second he was reunited with the horse who has changed his life.
"He's the horse of a lifetime," said Elliott, while equally in thrall to a thoroughbred he once branded "a little rat" was Gigginstown House Stud's Michael O'Leary, the Ryanair magnate who built a budget airline and now owns a horse money couldn't buy. That horse, he announced, will not seek to emulate Red Rum by winning a third National. He will surely reserve the right to change his mind.
"To win two Grand Nationals is unbelievable," said O'Leary. "He's a legend. He's now in that bracket with Red Rum. It's incredible."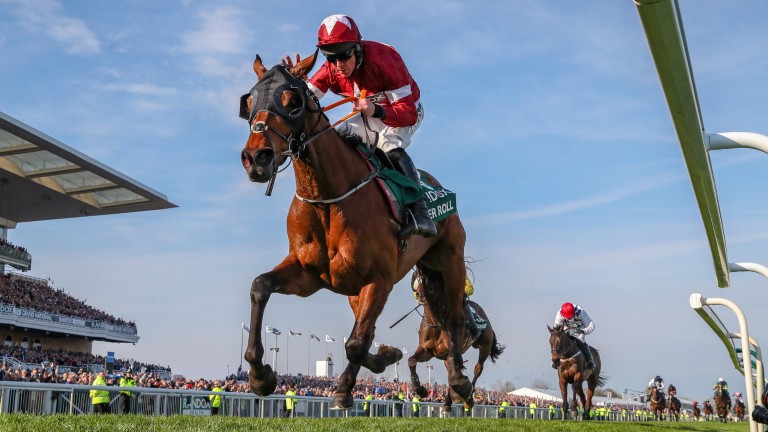 Tiger Roll becomes the first horse since Red Rum in 1974 to win back-to-back Grand Nationals
John Grossick (racingpost.com/photos)
Nobody would dispute those handsome words but this was not a perfect day, for at the opening fence a fatal injury was suffered by Up For Review, the first horse to be lost in the Grand National since 2012.
That fence then had to be bypassed on the second circuit, meaning what at that point was still a 37-strong field had to negotiate a tight chicane. That task was completed brilliantly by the jockeys, none of whom were sitting as happily as Russell. His happiness was not about to fade.
For in a contest in which only seven horses parted company with their riders, Tiger Roll, a quadruple Cheltenham Festival champion, travelled with ominous ease throughout. He was running off a 9lb higher mark than last year and had 11st 5lb on his back, but he skipped over the green spruce fences, low and clean, save for a couple of hairy leaps on the final run back to the racecourse proper.
Yet there is surely no horse in training who knows more about his job than the nine-year-old, who was still cruising alongside Magic Of Light at the last. She got that badly wrong. Tiger Roll got it gloriously right and powered clear, with Rathvinden third and Walk In The Mill fourth.
As the 4-1 favourite, Tiger Roll was the shortest-priced winner in 100 years. Just another reason for us to worship him.
"Everyone loves him," said Elliott, who had been responsible for an unprecedented 11 runners but rewrote the record books in an even better way.
"He's a little like myself," he added. "He likes the good life. He eats, sleeps and drinks. And he wants to win. He's the people's horse."
That people's horse won the people's race, as Russell so rightly observed.
"This horse and this place are amazing," he said. "Liverpool and Aintree are so far ahead. They should be proud of what they have here. I'm proud to be part of it."
He then turned his pride towards Tiger Roll.
"This horse is unreal," said Russell. "He actually knows his name. When the commentator said his name as we were parading he perked up. He's so intelligent it's unbelievable."
The 39-year-old Russell now has two National wins to his own name. Elliott and O'Leary, who struck independently with Silver Birch and Rule The World, have three. Whether Tiger Roll will get the chance to turn two into three and mirror Red Rum is, at this point, far from certain.
"It's unlikely he'll come back next year," said O'Leary. "His main goal is the cross-country chase. If he wins that a third time we'll retire him. In business you can be greedy. In racing you shouldn't be greedy."
Crucially, O'Leary did offer a welcome glimmer of hope. "We'll work out next year, next year," he said, adding: "Let's just enjoy this day."
It was a day we shall never forget. For this was the day when Tiger Roll joined the immortals.
---
Triple National winner
Red Rum 1973, 1974, 1977
Double National winners
Abd-el-Kader 1850, 1851
Peter Simple 1849, 1853
The Colonel 1869, 1870
The Lamb 1868, 1871
Manifesto 1897, 1899
Reynoldstown 1935, 1936
Tiger Roll 2018, 2019
fonte : RacingPost