Frost melts hearts as best friend Frodon delivers in Ryanair on biggest stage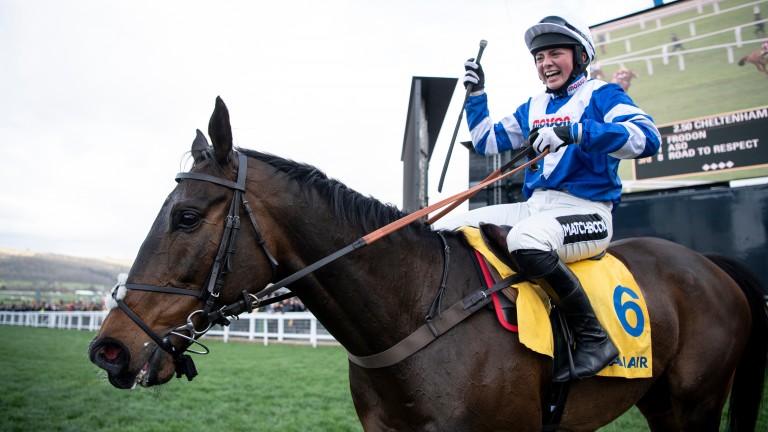 A delighted Bryony Frost after the Paul Nicholls-trained Frodon landed the Ryanair Chase on Thursday
Edward Whitaker
1 of 1
By David Jennings
That smile. That endless supply of enthusiasm. That never-say-die attitude. That audacious leap at the last. That walk down the chute. That raucous reception. That is why we love jump racing.
We didn't want this particular Ryanair flight to land at all as we were carried away in a wave of wonderfulness thanks to the ferocious Frodon and the blissful Bryony Frost. If you didn't enjoy this, jumps racing is not for you.
Asked to describe Frost in three words, Frodon's trainer Paul Nicholls replied: "Bloody fantastic."
The ten-time champion trainer can be forgiven for miscounting given he had just won his second Grade 1 of the week with a horse who was stone-last in the same race 12 months ago, beaten 37 lengths.
Nicholls knew this was a different Frodon to last year, that's why he returned to the scene of the crime rather than take a stab in the dark in the Gold Cup a day later.
It worked out pretty well, with 23-year-old Frost becoming the first female jockey to win a Grade 1 at the Cheltenham Festival over obstacles.
Frost, for whom this was a second festival triumph following Pacha Du Polder in the 2017 Foxhunter, when she was an amateur, rather likes and rates Frodon.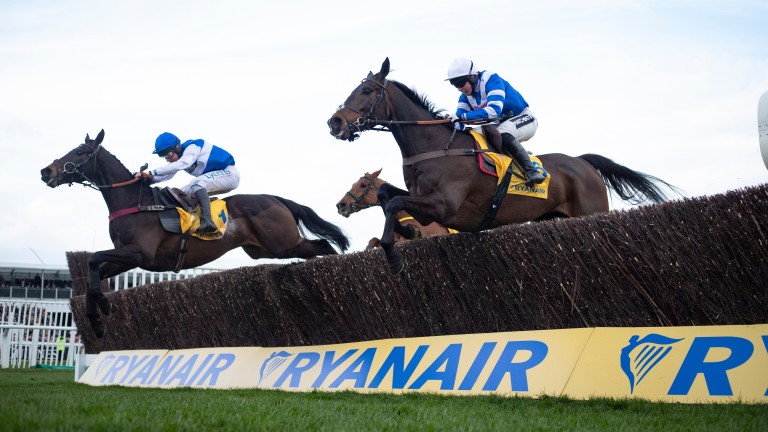 Frodon (right) jumps alongside 33-1 runner-up Aso on his way to a brave win in the Ryanair Chase
Patrick McCann (racingpost.com/photos)
"He's Pegasus, he has wings, and he's the most incredible battler," she said. "When he got overtaken two out, most horses would quit, but he grabbed me by the hands and said, 'Don't you dare give up, don't you dare not send me into the last, I want this more than you, now come on!'"
Just like Frodon after the second-last, Frost was not finished. Not by a long shot.
"He's the perfection of determination," she continued. "Look at what he's done there and tell me he doesn't love his racing. He's unbelievable. The dream he has just made come true for me is just incredible. He deserves every single pat, carrot and polo. This is his day."
This was your day too, Bryony. It was not just Frodon who wrote this most heart-warming of stories, you contributed more than your fair share of chapters too. When you talk, people don't just listen, they smile at the same time.
"He would not lie down," she beamed. "It's a lesson for us all. Sometimes you might go down but you've got to get up and get going again. And, at the last he was just magic. Then when he got to the front he did his usual and just looked up at the crowd and made sure he took it all in. Just like I did."
Frodon started 9-2 joint-second favourite and Nicholls said: "I really fancied him. You need one who stays three miles on that ground, and he stays three miles.
"There was no decision in the end when it rained – we were always going to go for the Ryanair rather than the Gold Cup. Frodon goes a gallop, so they'd have needed to be going some speed to go past him.
"He just galloped and jumped and I knew he had to be mega, mega fit to win today. That was just brilliant."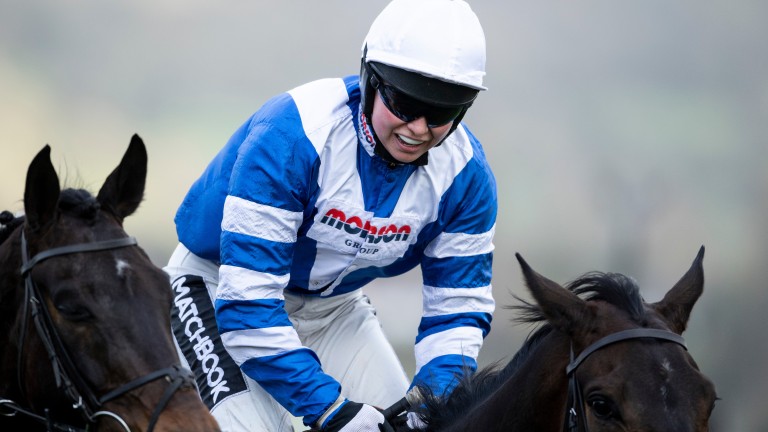 "She has just got better and better and better" – Paul Nicholls on Bryony Frost after her victory on Frodon
Edward Whitaker (racingpost.com/photos)
Aso almost spoiled the party, and it would have been a mega story too had he held on, given that his rider Charlie Deutsch has served time in prison since the festival last year. 
The 33-1 outside edged past Frodon and Road To Respect over the second-last, but Frost was too stubborn, too strong, too skilful and, with her gallant comrade, was having none of it. 
"Bryony gave him an awesome ride," said Nicholls. "We had a plan and she carried it out brilliantly. She works hard. She has just got better and better and better. For some reason a horse like Frodon suits her brilliantly, and vice-versa. 
"Paul [Vogt, owner] texted me earlier this week and said maybe we should have gone for the Gold Cup instead. I texted him back and said, 'Don't worry, it's soft, we'll win the Ryanair'."
Win the Ryanair they did, thanks to a terrier who would not take no for an answer and a jockey who is ridiculously good at riding horses and perhaps even better at talking and telling us how she feels.
Dad and brother fight back the emotions after more brilliance from Bryony Frost
By Lewis Porteous
Jimmy Frost, in the company of son Hadden, found a "quiet spot" down at the second-last to watch daughter Bryony in action in the Ryanair Chase.
By the time she and Frodon passed them for the final time in the lead, it was no longer a quiet spot as seemingly everyone packed into Prestbury Park roared his daughter home. 
For the man who won the 1991 Champion Hurdle on Morley Street, proud does not come close to the emotion of watching his daughter succeed at the biggest jumps meeting of all.
"You can't be any more proud – I'm at the top of the tree!" said a beaming Frost as his daughter was mobbed just a few metres away in the winner's enclosure. 
"I don't think they missed a beat out there. We walked the course this morning and she rode it to the second, as we discussed. I always say from the start to the first fence is probably where most races are won and she got him out and got him going."
Frost snr, with three festival winners in total his name, added: "We always said he'd get up the hill. They believe in each other. She tells you all what's it like to ride him and I'm just like you – I just listen!
"It was nerve tingling to watch, she's a hundred times better than I was."
While dad just about managed to suppress the tears, the emotions were too much to contain for Bryony's brother Hadden, himself a festival winner aboard Buena Vista in the 2010 Pertemps Final.
"That was pretty magical," said her older brother, who now lives in America, where he produces young showjumpers. "It's not often I cry in public and I must admit I thought they were beat at one stage.
"Dad obviously thought they'd won before I did because he started running to them. I didn't believe it for a minute. It means the world to everyone involved."
Noel Fehily lays out plan to retire 'in coming weeks' after festival victory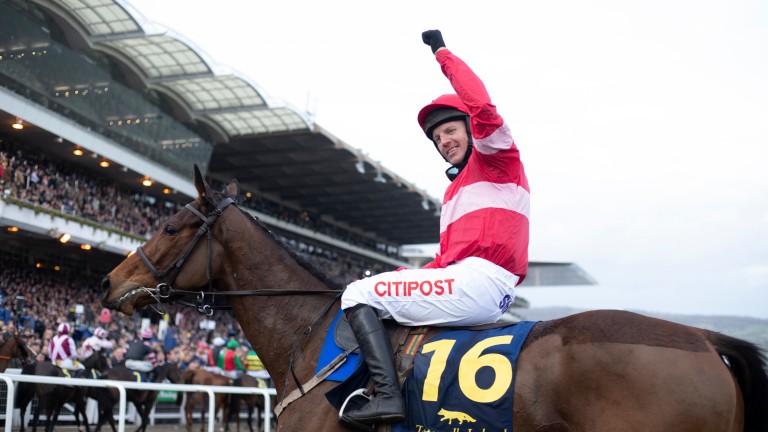 Eglantine Du Seuil and Noel Fehily win the Mare's Novices Hurdle
Patrick McCann (racingpost.com/photos)
1 of 1
By Tom Ward
An emotional Noel Fehily has announced he plans to retire from the saddle in the coming weeks after a career lasting more that 20 years.
Speaking after riding Eglantine Du Seuil to victory in the mares' novice hurdle, Fehily said: "I'm not getting any younger and it's a young man's game. I've been thinking about it for a little while and I'll let the young lads get on with it."
50-1 shot Eglantine Du Seuil just denied 66-1 stablemate Concertista in a photo-finish to continue trainer Willie Mullins' stranglehold on the Mares' Novices' Hurdle with a fourth straight victory under a patient ride.
Concertista ran a monstrous race to only lose out by a short-head on her jumps debut as the market protagonists failed to fire, with Epatante and Posh Trish never in contention.
The Gordon Elliott-trained 40-1 chance Tintangle completed a 1-2-3 for Ireland to yield a mammoth Tricast of £73,711.25 to a £1 stake.
Eglantine Du Seuil, who was having her first run since September, represented the same connections of Mullins and owner Jared Sullivan who were successful in the race with Laurina last year. 
Fehily said of the winner: "Her form behind Triplicate and Aramon certainly looks better now and she must be pretty good.
"A fast-run two miles suits her but she'll probably get further in time. She was quite keen but her heart is as big as she is. I'm really happy for Jared Sullivan."
---
What they said
Paul Nicholls, trainer of Silviniaco Conti and Rock On Ruby
He's probably made a wise decision. He's been a brilliant jockey and ridden lots of winners for lots of people. Everyone will wish him well but I think it'll be more appropriate to say a lot more when he actually retires.
Willie Mullins, trainer of Eglantine Du Seuil
It's great to see him going out on such a high. I've not watched the re-run yet but I think there was only one or two behind them at the top of the hill and I said to him 'she's not the fastest in the world so try and get her jumping' and that's exactly what he did. He wove his way through and I was so busy watching Danny I didn't realise it was one of my own. It was a fantastic performance from Noel Fehily, it was very special.
Harry Fry, trainer of Rock On Ruby and Unowhatimeanharry
He's a brilliant jockey and a brilliant person. I'm absolutely delighted for him to get another festival winner and announce his retirement on the biggest stage of all. He's been a huge part in my early career and will leave a huge hole – not just for us but in the weighing room and the sport. He's been a doyen of the sport and I'm thrilled for him, he's had a really tough month with appendicitis and it's greeat to see him back riding a winner here.
fonte : RacingPost
GOFFS : Paisley Park is Grade 1 winner No.3 from Goffs Land Rover Sale at Cheltenham
Following in the footsteps of Altior and Topofthegame yesterday, PAISLEY PARK became the third Grade 1 winner from the Goffs Land Rover Sale at the Cheltenham Festival this week when recording a fairy tale win in the Sun Racing Stayers Hurdle for owner Andrew Gemmell, trainer Emma Lavelle and jockey Aidan Coleman. 

Paisley Park was bought at the 2015 Land Rover Sale by Gerry Hogan Bloodstock for €60,000 where he was consigned by Ballincurrig House Stud. 
Gerry Hogan, purchaser of Paisley Park at the Land Rover, congratulates owner Andrew Gemmell
It was the culmination of a superb unbeaten season for the seven year old Oscar gelding who also landed the Grade 2 Cleeve Hurdle at Cheltenham last time out following a win in Ascot's Grade 1 Long Walk Hurdle in December.  

Paisley Park headed a 1-2-3 for Goffs store horses in the Stayers Hurdle, with Doncaster Spring Store purchase Sam Spinner putting in a great run in second and the legendary Faugheen, a Land Rover graduate, in third.
1-2-3 for Goffs stores in the Stayers Hurdle
Next Goffs National Hunt Sales:
Goffs UK Aintree Sale  4 April 2019
Goffs Punchestown Sale  2 May 2019
Doncaster Spring Sales  21 – 23 May 2019
Goffs Land Rover Sale  11 – 12 June 2019