Top sprinter Blue Point warmed up for the G1 Al Quoz Sprint with an easy success in the six-furlong G3 Nad Al Sheba Turf Sprint Sponsored By Arabian Adventures at Meydan, UAE, on Super Saturday, 9 March.
The five-year-old Shamardal horse, winner of the G1 King's Stand's Stakes at Royal Ascot last year, was half a stride slow leaving the stalls and raced in mid-field of the 11-strong field under William Buick.
Blue Point started to take closer order at half-way, moving into fourth, and cruised up to challenge with two furlongs to race.
The Godolphin horse soon led, readily opened up a clear advantage and was eased in the closing stages to come home three lengths ahead of Ekhtiyaar in 1.10.15s on good ground.
Charlie Appleby remarked: "That was a very pleasing performance from Blue Point, who will now head to Dubai World Cup night (Saturday, 30 March) for the G1 Al Quoz Sprint.
"I have always had a very soft spot for Blue Point, ever since his two-year-old days, and he is one of the quickest horses I have had the pleasure of training.
"He has improved year on year. He has had defeats, but I think that is good for horses going into championship meetings as they have to know when to dig a bit deeper.
"Blue Point is mentally mature now and looks like a proper sprinter physically. He has two gears – steady or quick – and we felt that it would be a long six weeks between his last victory and the Al Quoz Sprint.
"He came out of his win in the G2 Meydan Sprint (Thursday, 14 February) so well that I thought we would be better off taking this race in, just to keep the lid on him.
"He was just too fresh on Dubai World Cup night last year, when he had a bleed at the gates after a torrid journey in the lorry due to his freshness."
William Buick added: "Blue Point felt great today and is just a lot more professional now.
"Charlie felt that another run would benefit him and it certainly did. He is a horse that can easily get very fresh and he only runs over very short distances.
"This was a stepping stone to the Al Quoz Sprint and it was lovely that everything went smoothly today. I ended up soon enough in front, but when the turbo kicks in he is like a super car underneath you – he is hard to contain. He is a very, very talented horse and incredibly exciting.
"He is channelling all of his ability and strength in the right direction now, which is great to see, and the team have done a fantastic job.
"Blue Point has always been an exciting horse, so let's hope he can really fulfil what everyone has always thought of him.
"His confidence has grown and he knows how good he is now – he is very laidback about everything and goes about his job professionally.
"It is now onwards to March 30." (fonte : Godolphin)
Old Persian overcame trouble in running to collar Racing History on the line in a thrilling finish to the G2 Dubai City Of Gold Sponsored By Emirates SkyCargo at Meydan, UAE, on Super Saturday, 9 March.
The four-year-old Dubawi colt, making his seasonal return in the 12-furlong turf contest, raced in second before settling in third on the inside rail under William Buick after a furlong and a half.
Old Persian was relegated to sixth at the top of the straight as Racing History (Saeed bin Suroor/Christophe Soumillon), who set steady fractions at the head of the 10-strong field, made a bold bid for the line.
William Buick switched out turning into the straight, but was forced to wait to deliver his challenge until the final furlong.
Old Persian flew home once seeing daylight, getting up in the shadow of the post to beat Racing History by a short-head in 2m 32.68s on good ground, with the Godolphin duo finishing three lengths clear of Desert Encounter.
Charlie Appleby said: "I thought Christophe (Soumillon) had got his fractions spot on with Racing History.
"It was no fault of William's – it was just the way the race panned out and Old Persian was down on the rail there with not much racing room.
"But class prevailed in the end. Old Persian showed a good gear change and going forward he is going to have to step up in class again now. Hopefully, that experience will have sharpened up his racing style.
"Old Persian was a very big two-year-old and we gave him a bit of time. We all know what these Dubawis do, especially from three to four. All his homework has been pleasing, but we feel we left a bit on there for Dubai World Cup night.
"Old Persian has a bright future ahead of him – he is already a three-time G2 winner now, having won at Royal Ascot and beaten Cross Counter at York before tonight.
"We took the gamble of running him in the St Leger last season, but the petrol gauge ran out between the three-furlong and two-furlong pole that time, and we were very pleased with his preparation coming into this evening.
"We have our eyes firmly set on the G1 Dubai Sheema Classic (1m 4f) on Dubai World Cup night (Saturday, 30 March), so hopefully there is still a little bit of improvement to come. He was a bit fresh in the paddock tonight and there should be a bit more to come.
"A mile and a half is Old Persian's maximum trip, so he will head to the Dubai Sheema Classic, while Ispolinihas booked his slot in the G2 Dubai Gold Cup (2m) on the same night.
"Cross Counter did a nice piece of work this morning and pleased us. We will sit on the fence for a bit regarding which race to run him in, but I would imagine that he will probably go down the Dubai Gold Cup route."
William Buick commented: "I can't imagine it was pretty to watch, but I had so much horse underneath me.
"The race developed at a funny stage – we were halfway round the turn and everyone was peeling off, making a run for it. I made my move and ended up getting stuck behind a wall of horses but, once Old Persian got in the clear, it was a lovely performance.
"He was making his seasonal return and Christophe Soumillon got first run on me, so there was no question that he had a lot of ground to make up. He picked up very well and all he had to do was keep going until the line.
"It was a lovely run to build on for Dubai World Cup night. Let's hope."
Christophe Soumillon added: "Racing History ran a great race.
"Unfortunately, we did the most difficult part to go to the front with a steady pace and the jockeys came to my outside very early. So I had to start my run three furlongs out. If that would have happened in the straight, I think I could have won the race.
"Anyway, it was a great run and I'm very happy with the horse." (fonte : Godolphin)
Meydan Racing@MeydanRacing
DREAM CASTLE makes it a clean sweep of the course & distance preps for the G1 $6m Dubai Turf, landing his first G1 in the Jebel Hatta I'm determined fashion under @csoumillon
CASTLE A CUT ABOVE, SAYS SOUMILLON
Christophe Soumillon believes a gelding operation has helped Dream Castle fulfil his potential.
"He's totally different this year," Soumillon said. "Since being gelded he's much more confident, and much easier, including in the race. As you can see he has a very strong turn of foot.
"He's a small, stocky horse and very versatile. I have some big hopes for him on World Cup night."
Saeed Bin Suroor added: "He reminds me of Benbatl from last year. He won well and he's a nice horse for the future. This year he's shown his class."
Meydan Racing@MeydanRacing / Official Stakes Quotes: / $600,000 AL MAKTOUM CHALLENGE R3 (G1):
Wow Capezzano!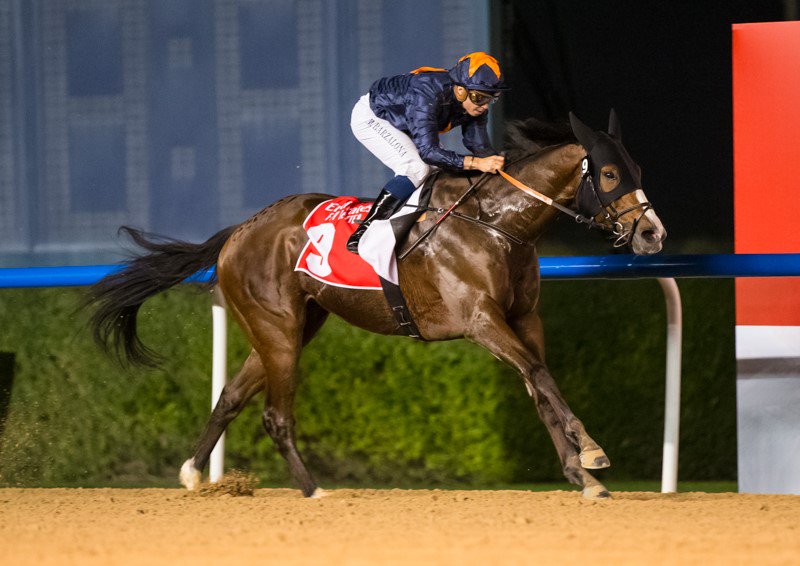 DREAM CASTLE SHOWS HIS CLASS
It's a Godolphin one-two in the $400,000 Jebel Hatta as Dream Castle, trained by Saeed Bin Suroor, beats Wootton, who was one of four challengers for Charlie Appleby.
Many had expected the pair to dominate and they had their own private battle in the final furlong – Dream Castle challenging down the middle of the track after showing great acceleration and always looking like he would prevail under Christophe Soumillon.
The Dubai Turf now beckons for the winner and it would be no surprise if the runner-up, who stuck to his task, joined him.
Dream Castle, a gelded son of Frankel, had previously won the Singspiel Stakes and Al Rashidiya in January, both Group 2 races, and this was his first success at the highest level.
First Contact was third, making it a 1-2-3 for Godolphin.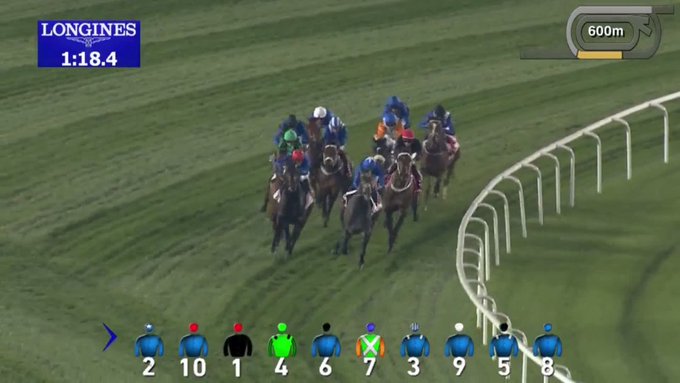 DREAM CASTLE gets his group 1!
The gelded son of Frankel shows a devastating turn of foot to win the Jebel Hatta Sponsored By Emirates Airline for Christophe Soumillon and Saeed Bin Suroor 
Sat 15:24"NO NEGATIVES" FOR APPLEBY ACE WOOTTON
Charlie Appleby believes Wootton is the pick of his quartet in the Jebel Hatta.
"He pleased me on his first start in the Zabeel Mile," he said. "He met a bit of trouble in running, but he finished the race strongly. I can't see any negatives and William has chosen him.
"The extra furlong is a question mark, but on the evidence of his last run it looks like he should appreciate it. We got him at the back end of the year and Dubai was always the plan."
Sat 15:18DREAM CASTLE PROVING QUITE A VISION
Saeed bin Suroor is hoping Dream Castle's improvement can carry him to his first Group 1 success.
"He has improved every race this year," he said. "We have changed the trip for him and that has made a big difference. He seems better over the nine furlongs, although a mile and a quarter shouldn't be a problem.
"The Jebel Hatta is another big step forward, but the horse is working well which is good to see."
Sat 15:13GODOLPHIN HOLD STRONG HAND IN JEBEL HATTA
The final race on the card is the $400,000 Jebel Hatta, sponsored by Emirates Airline, over 1800m on turf. Expect it to yield plenty of clues for the $6 million Dubai Turf on World Cup night.
Godolphin have already had a fabulous night and have five of the ten runners, with Charlie Appleby responsible for four, including last year's winner Blair House.
Stable jockey William Buick has opted to partner Wootton, an eye-catcher when an unlucky fourth in the Zabeel Mile on his first start for Appleby last time. Buick must have faced a tricky choice and James Doyle, who rides Loxley, and Mickael Barzalona, who partners First Contact, will be hoping he has got his sums wrong.
fonte : DWC